flexible. Ours.
Gloucestershire Hospitals NHS Foundation Trust is currently recruiting caring, dedicated Registered Nurses to work at Gloucester Royal and Cheltenham General Hospitals.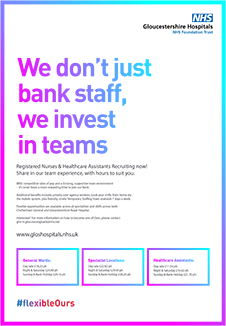 Working as part of our temporary staff bank offers a flexible way of working, with both ad hoc and longer, full-time bookings available. You could work shifts or days to suit your lifestyle. You can always depend on a steady supply of work and can choose when and where you want to work. Opportunities to work on our wards providing excellent patient care, or even opportunities to provide specialist care is also available.
As a member of the Gloucestershire Hospitals Bank you will:
Gain experience of supporting/providing services within a large Trust.
Have access to a diverse range of roles and opportunities to gain more experience.
Have the flexibility to work hours that suit you.
Be part of a local team that supports your career aspirations and provides full training and development free of charge.
Priority booking over Agency Workers
Friendly, Onsite Bank Team, 7 days per week
Ability to book Bank shifts from home
Be treated as an internal applicant if you want to apply for permanent jobs with us.
Have access to a number of benefits, including the NHS pension scheme.
Access to staff support services and staff discount benefits.
Gloucestershire Hospitals have just launched new competitive Bank rates
General Wards: Day rate £18.22 per hour, Night and Saturday £23.69 per hour, Sunday and Bank Holiday £29.16 per hour
Specialist Locations: Day rate £22.62 per hour, Night and Saturday £29.40 per hour, Sunday and Bank Holiday £36.20 per hour
RN–General
| Shift | Pay to nurse (gross) |
| --- | --- |
| Weekend day | £18.22 |
| Night / Saturday | £23.69 |
| Sunday / Bank Holiday | £29.16 |
RN–Specialist
| Shift | Pay to nurse (gross) |
| --- | --- |
| Weekend day | £22.62 |
| Night / Saturday | £29.40 |
| Sunday / Bank Holiday | £36.20 |
HCA
| Shift | Pay to nurse (gross) |
| --- | --- |
| Weekend day | £11.54 |
| Night / Saturday | £16.62 |
| Sunday / Bank Holiday | £21.70 |
Media enquiries
For all media enquiries email us at ghn-tr.comms@nhs.net