Gloucestershire hospital porters receive High Sheriff award
The Portering team at Gloucestershire Royal Hospital have received an award from the High Sheriff of Gloucestershire.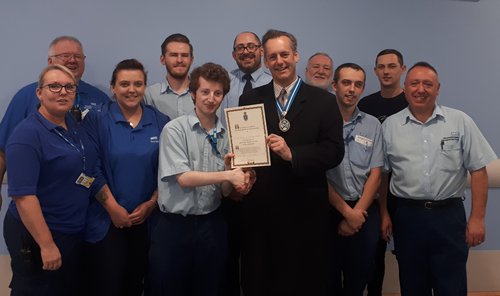 Charles Berkeley, the High Sheriff, presented the porters with the award, recognising their 'great and valuable services to the community'. As part of the award presentation, the High Sherriff had a tour of the hospital and spent time talking with staff over tea and cake to find out about their roles and the challenges that they face.
Keith Hamer, Managing Director of Gloucestershire Managed Services said: "The Portering team are essential in helping to make sure people and medical equipment get to the right place at the right time to those who need it most. They are a fantastic team and it is great to see that they have been recognised in this way."
The Portering Service, which is run by Gloucestershire Managed Services (GMS), operates a 24 hour, seven-day-a-week service, transporting patients and goods around both Gloucestershire Royal and Cheltenham General hospitals. They also play a crucial role in other services such as acting as the Ground Safety Team for the Air Ambulance and being part of the Fire Team.
Charles Berkeley said: "I was delighted to give a high sheriff award to the porters in recognition towards the vital role they play in supporting patients and staff. I went on a tour of the Hospital and saw first hand how vital it is for the porters to have a good relationship with all the staff which is vital for the smooth running of Gloucester Royal."
The visit was instigated by Joshua Griffiths, a Police Community Support Officer who is currently on secondment at the Trust and thought that the Portering team deserved extra special recognition. The High Sherriff will also be visiting the Portering team at Cheltenham General Hospital at a later date to express his thanks to the wider team.