New extended visiting hours – we're open!
From 5 July, all our wards will be operating new visiting hours on all wards, at both of our hospitals – from 9am to 9pm every day.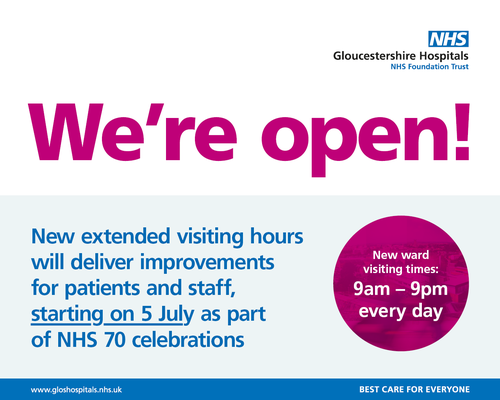 From 5 July, all our wards will be operating new visiting hours on all wards, at both of our hospitals – from 9am to 9pm every day.
This date is significant because it provides us with the opportunity to celebrate NHS70 and our commitment to improving patient and carer experience. The new hours are being introduced to provide people with more opportunity to visit their relatives and friends whilst they are being cared for in our hospitals.
Chief Nurse Steve Hams said: "More open visiting allows families easier access to medical staff, and means they can participate in care if they wish to do so. We are also really hopeful that it will open up channels of communication further between nurses and their patients and families."
The move on 5 July will bring the rest of our wards in line with specialised services such as our intensive care units, neonatal unit, children's inpatient unit, maternity services, dementia services and end of life care services that already have open visiting.
Steve continues: "We're putting up posters promoting the move around the hospitals under the headline 'We're Open', and we're also asking people to use the #VisitMe if they are talking about the new hours online.
The posters explain that staff may need to provide treatment and interventions at different times, so at certain points in the day, visitors may be asked to come back later or move to another area of the ward for a short period of time to maintain the confidentiality, privacy and dignity of all our patients."
Lead Governor Alan Thomas is delighted with the news, saying "Anything that enhances the patient experience and those who care for them is to be applauded. The extension of visiting hours is a great example of listening to what patients want and doing something about it."
Background
Over recent months some of our clinical teams have been testing new and interesting ways to support and improve patient and staff experience.
As part of our involvement in the NHS Improvement Enhanced Care Collaborative, Ward 3a (led by Emma Ashcroft) and 7a (led by Alison Hutt) have been testing extended visiting hours, and they have already seen significant differences including fewer telephone calls to the ward, reduced complaints from relatives, fewer interruptions during the medication round and greater family involvement in discharge planning.
Other hospitals that have implemented extended visiting hours have found the following benefits:
Improved nutrition and hydration for patients
Fewer pressure ulcers and falls
Support with nutrition and hydration
Greater family involvement in care and discharge planning
Fewer complaints
Improved car parking
Improved discharge planning
In due course we will be working with staff, patients and carers to develop a Visitors' Charter.