Focus is the charitable fund for the Gloucestershire Oncology Centre.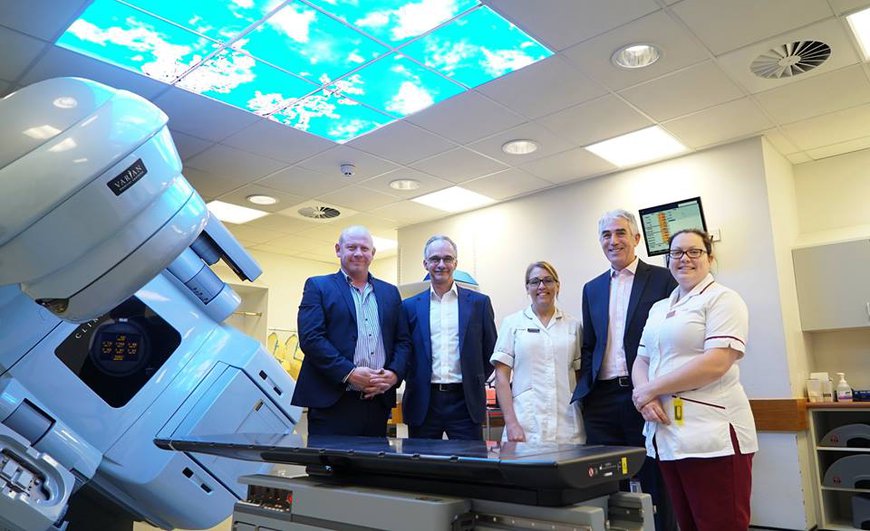 Focus is the charitable fund for the Gloucestershire Oncology Centre, raising funds to make a direct impact for local cancer patients and their families.
The aim is to create a comfortable environment for all patients and staff by investing in facility improvements, state of the art equipment and additional care above and beyond NHS provision.
How your support is making an impact for local cancer patients
Sky ceilings installed in radiotherapy suites
We have installed several Sky Ceiling's in radiotherapy and chemotherapy rooms, oncology wards and our waiting areas at the Gloucestershire Oncology Centre and our Hereford Radiotherapy Unit. Sky Ceilings provide a welcome distraction for patients during their treatment, giving the impression of daylight penetrating what is normally a large, white clinical room with no windows or natural light.
New treatment suites for Thyroid Cancer patients
New Iodine Treatment Suites are making a huge impact on patients with Thyroid Cancer. Funded by donations to Focus, the new suites have not only doubled the number of patients who can receive treatment but also offer a greatly improved environment. Patients, often aged in their 30's or 40's, receive an intensive form of treatment and must be kept in isolation for around 4 days. It can feel a long time to be away from their loved ones, however the new suites allow them to digitally connect with their friends and family; a huge boost for our patients at a time when they need it most.
Focus Support Team
Our Focus Team are funded by donations and, along with a team of committed volunteers, they play a vital role giving support to cancer patients in the Oncology Centre. The team are there for our patients at every step; from a diagnosis of cancer to advice during and beyond their treatment. The support team also offer complimentary therapies from massage to reflexology to help relieve anxiety and relax patients during their treatment.
I give my time to volunteer in the Focus Support Team because I know what an impact it makes for our patients. Whether they're looking for advice about treatments, information on anything from financial decisions to accessing childcare or just need someone to listen, we're determined to be there for them.

John Alderman, Volunteer
Rise and Recline Chemotherapy Chairs in Oncology Outpatients
Thanks to recent support we have been able to order six new rise and recline chairs for Oncology Outpatients, which will make a huge difference to patients who are receiving chemotherapy treatment for long periods; a time when the additional comfort and security offered by the chairs will make a real impact.
New research to benefit patients thanks to scanners funded in the Gloucestershire Oncology Centre and Hereford Radiotherapy Unit
Donations help to make new research projects possible, and Senior Radiographer Kate MacQuire recently won a Research Award for her MSc research demonstrating how ultrasound can improve treatment for patients with gynaecological or prostate cancers, a new technique in the UK.
Before we give treatment we need to identify the bladder volume, which has an impact on where the cancer is situated. This can vary from day to day, so it's important to check before we start treatment. It can be really difficult for patients, who might already be under considerable stress, to keep the bladder at the correct level. Previously our only option to check the level was a CT scan; which is time consuming and if a patient's bladder isn't at the right level we need to start all over again. With ultrasound equipment funded by donors to Focus in both the Oncology Centre and Hereford Unit, we have been able to quickly check patients prior to treatment; giving reliable information which can be used immediately.

Kate MacQuire, Senior radiographer
Make a difference and support us today
Give to our charity and help make our hospitals better