Focus is the charitable fund for the Gloucestershire Oncology Centre, making a real difference for local cancer patients and their loved ones.
Our supporters help to fund extra care, specialist equipment and new research over and above that provided by the NHS. Thanks to donations, gifts in wills and fundraising we have funded a number of projects including: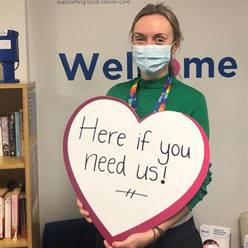 Cancer Care through the Focus Support Centre
Based in the Gloucestershire Oncology Centre, the Focus Support Centre offers information, help and advice for local cancer patients and their loved ones. The Focus Team, funded by donations, work alongside a committed group of volunteers to provide patient support at every step; from a diagnosis of cancer to advice during and beyond their treatment.
You can read more about the Focus Support Centre here.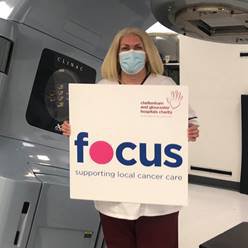 Research to Improve Future Patient Care
Our newly appointed Research Radiographer, Elaine Smith, will be working on research trials that will help us to offer emerging radiotherapy techniques, new and innovative treatment options, as well as improvements to patient care. Research studies will be invaluable in our understanding and future oncology planning and this role will help transform the lives of local patients.
You can read more about Elaine's role here.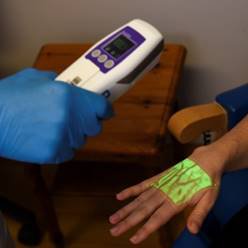 State-of-the-art Equipment to help improve patient experience
Our supporters have helped fund specialist equipment such as sky ceilings to transform the hospital environment and provide a welcome distraction for patients during their treatment. Rise and recline chairs help give extra support and comfort. Our vein finder appeal is raising funds for this state-of-the-art technology that can help our staff find the most effective vein for treatment. By simply holding the device above the chosen body area, the veins underneath are clearly displayed on the surface of the patient's skin.
You can read more about our Vein Finder appeal here.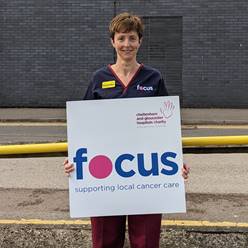 Extra Support for Cancer Patients Experiencing Side Effects of Treatment
Gloucestershire Oncology Centre will soon be able to offer patients access to a new Late Effects Service following radiotherapy. This service will help by managing side effects, offering support and advice, and linking with specialist services. As well as working with local charities, support groups, community, and GP services to ensure patients receive streamlined and individual support, so that late effects are identified as early as possible.
You can read more about the Late Effects Service here.

Without our supporters, none of these projects would have been possible. We would like to thank everyone for helping to make a difference and transform lives for local cancer patients.
If you would like to show your support, please visit our donation page or contact us for other ways to fundraise.
Make a difference and support us today
Give to our charity and help make our hospitals better