Help us to transform and save lives in Gloucestershire
The launch of our £1.2m CT scanner appeal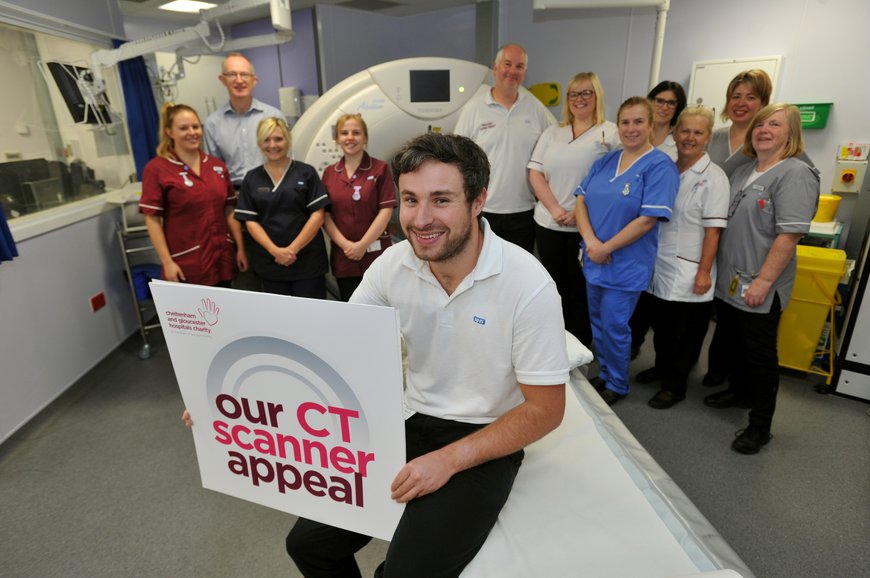 When someone falls seriously ill, it is not just the care they receive but breakthroughs in technology that can help them survive. Vital equipment such as CT scanners and x-ray machines are used 24 hours a day, 365 days a year to help diagnose patients and to ensure they get the right treatment as quickly as possible.
The radiology teams at Gloucestershire Royal Hospital and Cheltenham General are constantly battling increased demand with current scanners at full capacity which means patients can face a longer wait to be seen.
So, that is why the Cheltenham and Gloucester Hospitals Charity has today launched our CT Scanner Appeal. We want your help to raise a further £1.2m to help us buy three new CT scanner machines and two digital mobile x-ray machines.
This new state of the art technology will make a huge difference for people with a wide range of conditions, including those fighting cancer or heart disease, emergency patients and premature babies who need urgent medical treatment.
Annually, almost 80,000 people have a CT scan or mobile x-ray at Cheltenham General and Gloucestershire Royal Hospital, a number which increases every year.
Computed tomography (CT) scanners use x-rays and a computer to help to diagnose patients quickly by taking detailed 360-degree images of what is happening inside the body.
Lily Bailey, Superintendent CT Radiographer at NHS Gloucestershire Hospitals NHS Foundation Trust, said: "This scanner appeal is vitally important as it affects so many different types of patients in Gloucestershire.
"It is predicted that one in two people will be affected by cancer in Gloucestershire at some point in their life and the scanners are essential to their diagnosis and treatment.
"With new scanners we will be able to get faster results and better quality images"

Lily Bailey, Superintendent CT Radiographer
"We also see many emergency patients coming into our department. With new scanners we will be able to get faster results and better quality images."
Mobile digital x-ray machines provide immediate images which means patients can be diagnosed there and then instead of waiting for results from the traditional scan. The new mobile machines will help people with urgent medical conditions and the neonatal team will be able to use them to see where to place vital treatment lines in premature babies in an instant.
Kate Green, Cheltenham and Gloucester Hospitals Charity Director of Fundraising, said: "We have already secured £1.2m which is fantastic, however we need people's help to raise a further £1.2m to buy all three of our new scanners and mobile x-ray machines."
Currently our hospitals are constantly balancing the needs of the emergency department and any urgent scans as well as booked outpatient appointments and sadly, at the moment, this can mean delays for patients. "Having more scanners with state-of-the-art technology really will help reduce anxious waiting time for people and help to save and transform lives enabling early detection and diagnosis.You can help Our CT Scanner Appeal in many ways including:
Donate online at www.gloshospitals.nhs.uk/charity
Taking on a fundraising challenge such as a sponsored run or walk
Organising fundraising events at your local school, work, gym, club or community group
Making the CT scanner appeal your business' charity of the year
Support transformational projects in the hospitals with a gift in your Will
Make a difference and support us today
Give to our charity and help make our hospitals better