Summerfield Charitable Trust help to improve the experience for patients with dementia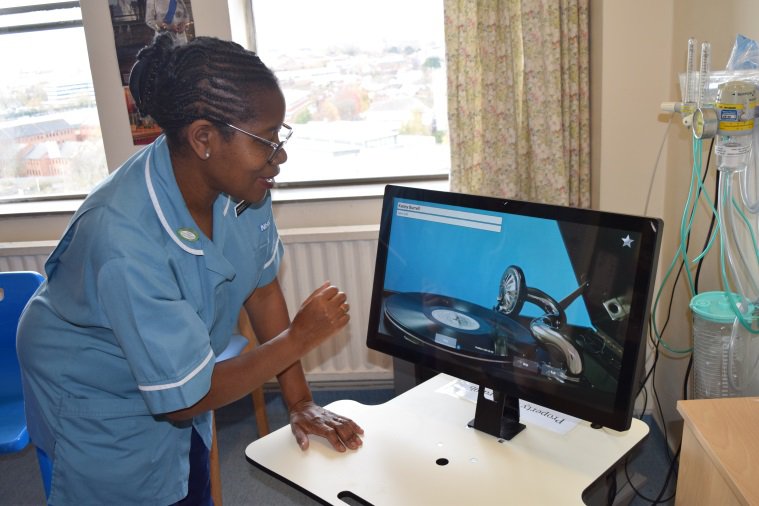 Around 70% of people with dementia also have another medical condition, and come to our hospitals for treatment for a wide variety of reasons, from accident and emergency to respiratory problems or fractures following a fall.
Our dedicated NHS teams work to help patients recover and regain strength, but for patients with dementia the hospital environment can seem unfamiliar and even stressful.
Thanks to a grant from The Summerfield Charitable Trust, patients are now benefitting from new reminiscence therapy devices, known as 'RITA's, which help to improve the patient experience.
RITA is a new touch screen technology which enables staff or volunteers to engage patients with activities including listening to music or poetry, watching films or historic cultural moments and group exercises. This helps staff to 'unlock' memories, trigger conversation and make patients feel more at ease, which in turn helps to improve both the patient experience and health.
Angela McFarlane, Sister and Dementia Champion at Gloucestershire Hospitals NHS Foundation Trust "RITA has been a huge step forward, and has helped us to do more than ever for our patients. It helps us in so many different ways; the team use it to calm a patient who might be stressed or to keep patients entertained with an old film which stops them wandering which can lead to falls.
Playing music during lunch in our day room creates a calm and positive atmosphere and much nicer for patients than eating at their beds, which means they are much more interested and eat and drink more."
The £8,200 donation from The Summerfield Charitable Trust funded two 'RITA's in response to the charity's Dementia Appeal.
Richard Hastilow-Smith, Head of Fundraising "We are very grateful for the kind donation from The Summerfield Charitable Trust, which is making a direct impact for the increasing number of local people with dementia who come to our hospitals for treatment. The technology really helps our staff on the ward to improve the experience for patients which can make a direct impact on health".
Make a difference and support us today
Give to our charity and help make our hospitals better