New Charity Funded iPads Are Helping to Bring Patients and Loved Ones Together Virtually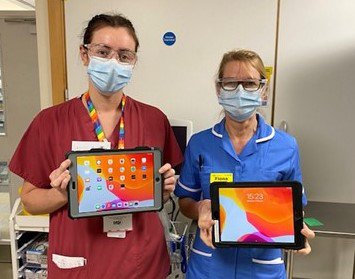 Thanks to support from NHS Charities Together, we have been able to fund 24 new iPads to help patients communicate with their loved ones during the pandemic.
NHS staff were delighted when they were offered the new tablets to help with "virtual visiting" to connect patients and their families.
"We have found it incredibly helpful and beneficial for our patients to have that contact with their loved ones, especially at a time when visiting is restricted for safety reasons. For our older patients who do not always have access to media, staff assist them so they can talk with their friends and family and they are so grateful for the opportunity to do this."
"For those patients that have sadly been at end of life, both the patient and their family have felt huge benefits in being able to communicate with their loved ones in their final days. It has brought immense comfort for everyone."
The iPads offer the latest technology and utilise the Trust wifi which means there is no cost for the user. They also allow patients to access other functionality, such as browsing the internet, when not in use for virtual visiting.
Richard Smith, Head of Fundraising, said "We hope this technology helps to make things a little bit easier at what can be a difficult, isolating and emotional time for both staff and patients. Being able to connect people to their family and friends during the pandemic has been incredible, and it's so important to us as a charity to support mental health and wellbeing."
We are grateful to NHS Charities Together for funding this equipment and to the local community for supporting our COVID-19 Appeal. If you would like to find out more about how the charity is supporting staff during the pandemic, please visit our Appeals and Good News pages.
Make a difference and support us today
Give to our charity and help make our hospitals better