Changes to our hospital services
The latest information about changes to our hospital services in response to coronavirus (COVID-19).
Last updated: 13th May 2020
Outpatients appointments
Wherever possible, outpatient appointments will be offered by telephone or video call from 26th March 2020. This is to minimise face-to-face contact and reduce the need for patients to travel to our hospitals.
We will contact you if you are affected by this change. If you do not receive a call from a specialist clinician, you should attend your appointment at the time and location stated on your appointment letter.
You may still need to attend in person for diagnostics like scans, endoscopies or cardiac tests. You should attend your scheduled appointment unless you or a member of your household is self isolating.
You will also be asked to attend Gloucestershire Royal or Cheltenham General Hospital if you have an outpatient appointment booked in a community hospital.
We have separated our clinics to ensure there are fewer patients in our Outpatient Department at any one time and our seats are separated to help with social distancing. We provide masks and hand sanitiser for your use and we are carrying out extra cleaning in the shared areas as a precautionary measure.
Information:
Please do not come to the hospital if you or anyone in your household has any symptoms of coronavirus.
Emergency department
We have made changes to how children and young people should access the Emergency Department (A&E) at Gloucestershire Royal Hospital.  
If you are aged 16 or under or your child needs emergency treatment, you should go to the Children's Centre entrance in the diagram, below.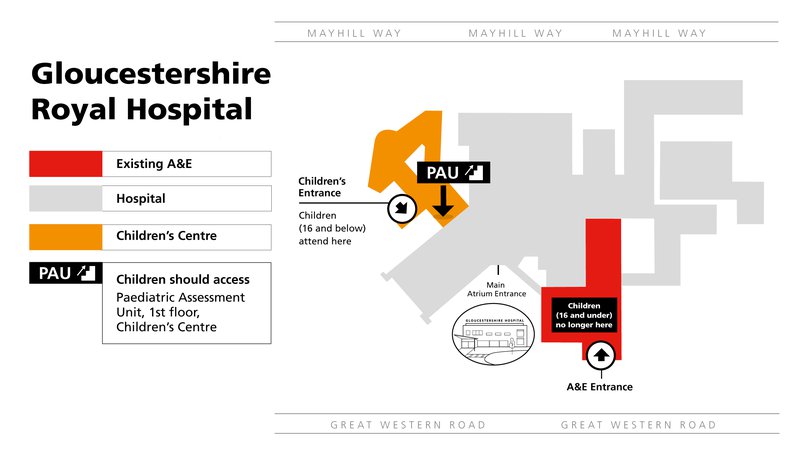 Surgery
We are prioritising all emergency and urgent procedures at our hospitals, which may mean delays to:
non urgent day surgery
non urgent planned procedures
We will be in touch if we need to postpone your surgery or procedure.
Urgent (2 week) referrals
Your GP or dentist may refer you to our hospitals for a 2 week wait referral, to rule out the possibility that you have symptoms which could be a sign of cancer.
Appointments
To limit the number of hospital visits, some of our services will carry out the initial assessment of your symptoms by a telephone appointment.
This will allow us to decide if you can be booked for tests without any further appointment, or if we need to see you 'face to face'.
If you have not yet received an appointment from us, you will receive an appointment shortly either by post, or our Central Booking Office will contact you to arrange your appointment.
If you are not called by a specialist clinician, you should attend your appointment at the time and location stated on your appointment letter.
If you need to cancel or change your appointment, we will arrange a call from a specialist clinician to discuss your symptoms.
Tests
We may not be able to provide tests as quickly as usual, but you will remain on a 'cancer tests' waiting list which will be monitored daily. As soon as we are able to arrange any tests we will contact you.
We will also give you a contact number at your first assessment, which you can use to call us if your symptoms change or increase.
NHS video call appointments
As part of our plans to reduce the risk of coronavirus infection, you may be asked to attend one of our virtual clinics through NHS video calling.
This allows you to speak to a clinician from home, so you can avoid travelling to our hospitals.
Find a full list of clinics where we currently offer video consultations.
Dropping in essentials to patients
Where possible, we encourage you to stay home and avoid any unnecessary travel. We have a number of stock items on our wards, including:
toothpaste
shaving foam
shampoo and conditioner
We have a belonging drop off service outside our PALS offices at the Pillars Entrance to Cheltenahm General Hospital, and the Tower Block at Gloucestershire Royal Hospital. The opening times are:
Cheltenham General Hospital, Monday to Sunday 11.00am to 1.00pm
Gloucestershire Royal Hospital, weekdays 11.00am to 1.00pm and 4.00pm to 6.00pm, and weekends 11.00am to 1.00pm. 
You should only send in essential items and include the following information on the bag:
the patient's name
the patient's date of bith
the ward the patient is on
Only leave belongings with our volunteer and never leave any bags unattended please. The Trust cannot accept responsibility for personal belongings. 
For more information or if you have any queries, please call our Patient Support Service on 0800 019 3282 or email ghn-tr.helplinesupport@nhs.net