Due to visiting restrictions, we ask that patients can be accompanied in the waiting room by one person until they have been seen unless they have specific circumstances to stay.
Last updated: 16 December 2021
Emergency department
Cheltenham General Hospital's A&E department has re-opened to its pre-pandemic state, i.e.:
The consultant-led Emergency Department is open seven days a week between the hours of 8am – 8pm
The overnight nurse-led service is open seven days a week between the hours of 8pm – 8am
Gloucestershire Royal Hospital continues to provide a 24 hour A&E including 999 ambulances, GP referrals, children's emergencies, MIIU and maternity care
Minor Injuries and Illness Units (MIIUs)
You can continue to access the following Minor Injuries and Illness Units (MIIUs):
Lydney (8am to 8pm)
Stroud (8am to 8pm)
Cirencester (8am to 8pm)
North Costwolds (8am to 8pm)
Tewkesbury (8am to 8pm)
The Vale, near Dursley (accessible via NHS 111 or GP referral)
There is also a Minor Injuries Unit and X-Ray department at Tetbury Hospital (open 8.30am to 4pm Monday to Friday) and a Minor Injuries Unit at Winchcombe Medical Centre (open 8.15am to 6.30pm).
MIIU services are currently suspended at:
The Dilke, near Cinderford (nearest alternative, Lydney)
Children's emergency services
We have made changes to how children and young people should access the Emergency Department (A&E) at Gloucestershire Royal Hospital.  
If you are aged 16 or under or your child needs emergency treatment, you should go to the Children's Centre entrance in the diagram, below.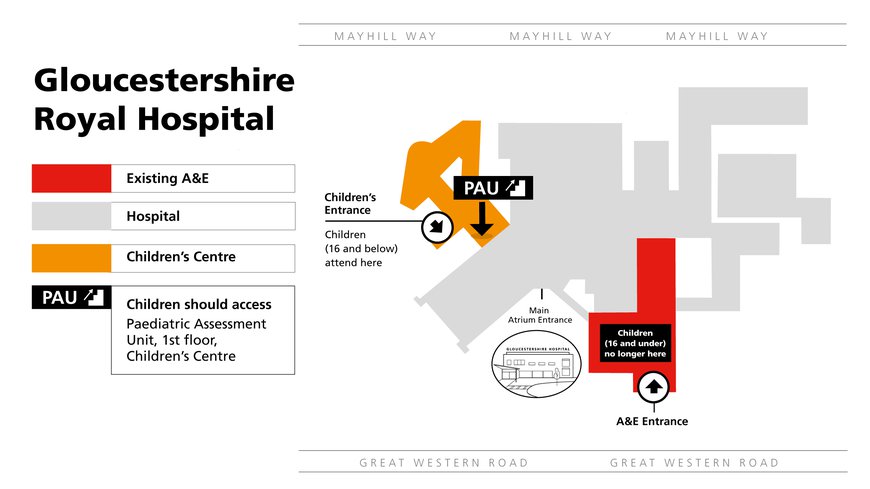 Visiting and accompanying patients
You may remain with patients who needs emergency care until they are assessed. If you would rather wait outside the department, please ensure that the patient has your contact details.
Once patients have booked in at reception, one family member or visitor may remain with them until they have had their first assessment with the triage nurse. After this the nurse will ask visitors to leave unless the patient:
has a learning difficulty or disability
has dementia, delirium or a cognitive impairment
has an acute mental health need
needs a carer
is pregnant
is elderly or frail
is vulnerable
is under 16 (one parent only)
other reasons at the discretion of the senior emergency department team