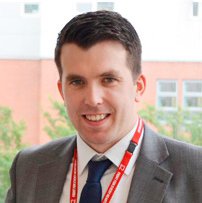 Primary medical qualifications
MBChB, MRCP, PhD, PGCME
Dr McAloon is a Consultant Cardiologist with a specialist interest in cardiovascular imaging. He is also Foundation Program Director at Gloucestershire Hospitals NHS Foundation Trust.
Areas of expertise
general adult cardiology
valvular heart disease
heart failure
Ischaemic heart disease
cardio-oncology
cardiomyopathy
transoesphageal echocardiography (British Society of Echocardiography accredited)
advanced  transthoracic echocardiography (British Society of Echocardiography Accredited)
stress echocardiography (Dobutamine and Exercise)
cardiac MRI
Biography
Dr McAloon trained in medicine at the University of Birmingham and graduated in 2007, undertaking his foundation and core medical training in the West Midlands, this included winning the FY1 West Midlands Research Prize. 

In 2011, he entered into specialist training in Cardiology in the West Midlands, training in the major centres in the region. In 2011 to 2012, Dr McAloon completed his postgraduate certificate in medical education at the University of Cardiff, developing his interest in teaching. 

In 2013, Dr McAloon started a PhD in cardiac resynchronisation therapy and heart failure at the University of Warwick and completed this in 2017. During this period he presented nationally and internationally, published several peer reviewed publications and won the inaugural Royal College of Physicians and National Institute for Health Research Trainee​ Excellence Award in 2015. 

Dr McAloon trained at University Hospital of North Midlands and Queen Elizabeth Hospital Birmingham in advanced cardiac imaging, including advanced echocardiography (transoesphageal, transthoracic and stress) and cardiac MRI. He is also an Honorary Consultant Cardiologist at Queen Elizabeth Hospital Birmingham.
The Best Care For Everyone