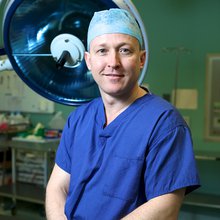 Contact
Date of registration
1 Jan 1997
Primary medical qualifications
MBChB, MRCS (Eng), FRCS (Tr&Orth)
Consultant in Trauma & Orthopaedics
Area of expertise
Mr Mutimer is an orthopaedic surgeon with a specialist interest in hip and knee arthroplasty.
Having qualified in Bristol in 1997, he worked in Manly, Australia, and spent time teaching anatomy to medical students at Oxford. He started his surgical training in Bath and completed his specialist orthopaedic training in Bristol and the South West.
He spent a year in Wellington, New Zealand, and undertook a hip and knee arthroplasty fellowship working with Prof Geoff Horne and Peter Devane. As well as performing complex hip and knee replacements (primary and revision) Mr Mutimer had the opportunity to research methods to improve the longevity of hip replacements by monitoring wear after implantation.
Conditions treated include:
Hip and knee arthritis
Soft tissue knee injuries
Anterior knee pain
Sports injuries
Hallux valgus, lesser toe deformities
Carpal Tunnel Syndrome
Trigger finger
Ulna nerve entrapment
Tennis elbow
Trauma
Procedures performed include:
Total Hip replacement, resurfacing and revision
Total Knee replacement and revision
Unicompartmental Knee Replacement
Arthroscopic Surgery (menisectomy, microfracture)
Forefoot surgery (bunions, fusions)
Tennis elbow release
Ulna nerve decompression
Hand surgery (carpal tunnel decompression, trigger finger release)
Other useful contact numbers
Cheltenham General Hospital
Reception 0300 422 3863
Secretary 0300 422 3239
Cirencester Hospital
Reception 0300 422 4658
Secretary 0300 422 4645
Outpatient booking office 0300 422 5991
Admissions secretary (Cheltenham General) 0300 422 3585
Orthopaedic admissions suite 0300 422 3846
The Best Care For Everyone