A First for Gloucestershire - New Cryoablation Technology To Help Local Cancer Patients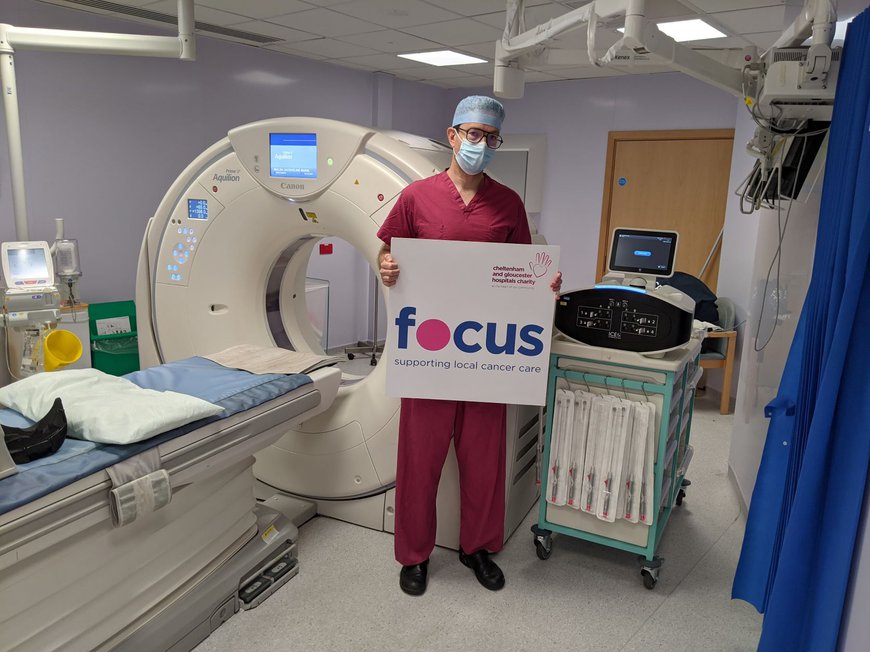 Thanks to donations, a new specialist technology is benefitting local cancer patients for the first time in Gloucestershire.
Cryoablation destroys cancer cells by freezing them, with precision probes placed within a tumour, which is then frozen to -40 degrees centigrade. For people living with small cancer tumours, this treatment is less invasive and means patients will take much less time to recover. The technique also lowers the risk of complications during surgery.
The technology is used alongside a CT Scanner to help place the probes precisely, and with three CT Scanners now funded thanks to donations, we are helping the NHS to do even more for local patients with innovative projects such as this.
"To be able to go in on a Friday with cancer and come out without cancer on a Saturday, well some dentistry takes longer that! There is hope for the future I think."

Alex, one of the first kidney cancer patients in Gloucestershire to benefit from this state-of-the- art technology.
Guy Hickson, Consultant Interventional Radiologist, has been using the technology to give treatment,
"It was fantastic to make a huge leap and start our Cryoablation treatment in Gloucestershire this year, and to begin successful treatment of local patients. It's allowed us to give treatment in situations which otherwise would not have been possible."
"For example one patient, who was younger than most cancer patients, was not able to have surgery but we were able to use the cryoablation technology to give targeted treatment. We are extremely grateful to now have this opportunity for our local patients."
Thank you to all of our supporters who have donated and helped make this specialist technology available to local cancer patients for the first time in Gloucestershire.
If you would like to help support our fundraising for new specialist technology and state-of-the-art equipment, please visit our donation page.
Make a difference and support us today
Give to our charity and help make our hospitals better