An inspirational nursing journey: paying kindness forward
The first step on Khoboso's journey from the Chalbi Desert in Kenya to Gloucestershire was initiated by the kindness of a stranger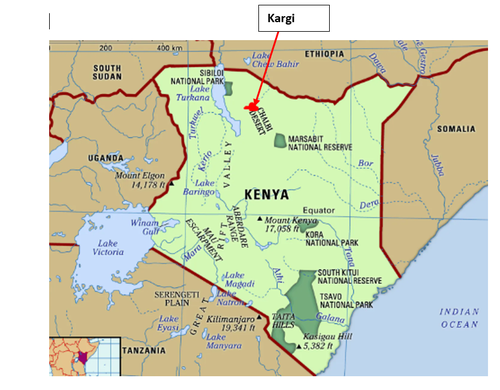 Khoboso Hargura-Adichareh, a Sister and Nurse Practitioner in the Frailty Unit at Gloucestershire Royal Hospital, was born and brought up in Kargi, a village in Marsabit County located in the north-eastern region of Kenya.
Kargi is about 50 kilometres from Marsabit and about 430 kilometres from Kenya's capital, Nairobi. Khoboso and her husband Mbore are from the Rendille community, a predominantly pastoralist, nomadic community that inhabits the Chalbi desert, which covers around 1600 square kilometres
Khoboso's primary and secondary education were sponsored by an intially anonymous UK national. It transpired that her benefactor Katie was not a wealthy person but a student who worked part-time in Macdonalds while studying. She would send small sums for Khoboso's basic needs and paid her school fees.
Khoboso reflects: "Being from a pastoralist community, education was not such an important part of life, but my sponsor gave me a new life by paying for me to study and always encouraged me to work hard and achieve in life."
From that early age I learnt that giving is a virtue and I always wanted to give back and make a difference, however small, to change someone's life.

Khoboso Hargura, Sister and Nurse Practitioner
Khoboso has worked as a nurse in the UK since 2016. Having worked in the hospitality industry and financial sector for several years, she reflected on the challenges that faced her community, both here in Gloucestershire and back home in Kenya and wondered how she could be of more help to them now and in the future.
She says that a career in nursing was the first thing that came to mind considering the health difficulties that her community and family were facing. Khoboso had lost her young brother to cancer and her Dad was also diagnosed with cancer some years before he died in 2020.
Khoboso reflects that benefiting from the kindness of her sponsor Katie is one reason why she does her best to provide the best care to her patients and their families here at Gloucestershire Royal Hospital at the same time as undertaking charity work to support her rural village in Kargi, Kenya.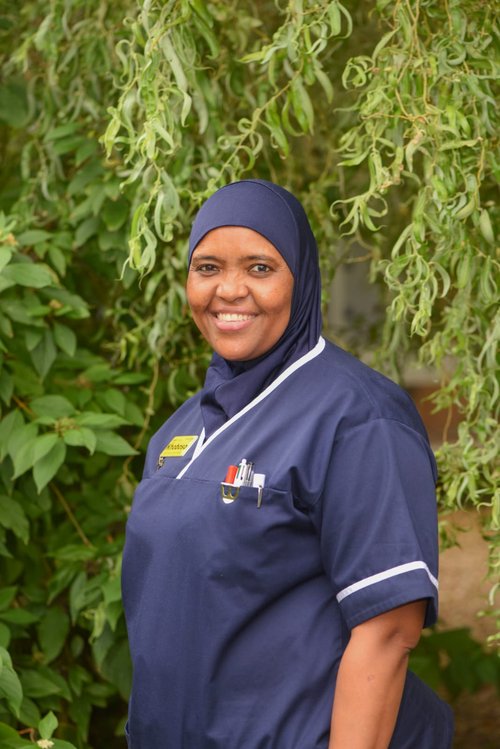 I feel like nursing enables me to do the right thing now, giving back to society. I have been given such an opportunity and I need to give something back.

Khoboso Hargura, Sister and Nurse Practitioner
A previous Cavell star winner, Khoboso was nominated by a senior nurse from outside the Trust who advised, "It was a privilege to observe Khoboso in action. She was kind, calm, compassionate and managed to encourage with just the right level of push and good humour. Probably the best example of holistic care I have observed, truly person-focused. She taught and encouraged others, including students, to look at the whole person".
Commenting on the award in 2019, Khoboso said, "I just love the job! Seeing someone coming into hospital and not being able to get out of bed, then supporting them and giving the care that is needed and seeing that person able to walk, I think wow, I am making such a difference!"
Outside her work for the NHS, Khoboso is a committed member of her local community in Gloucestershire. Khoboso and her husband also run a registered charity, Kargi Pastoralist Link, which runs projects that aim to benefit the health of the Rendille community, which is challenged due to the lack of proper health structures and facilities.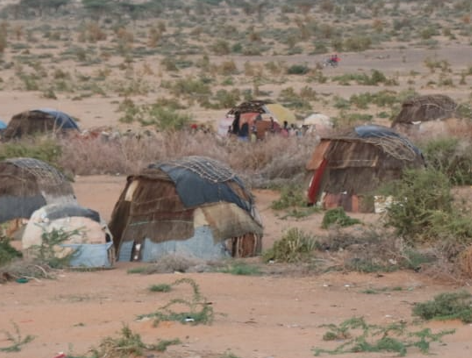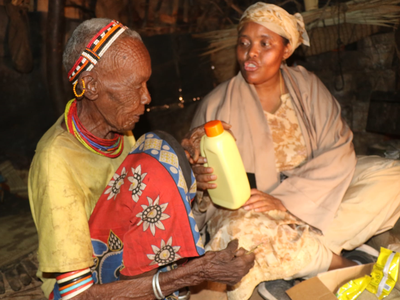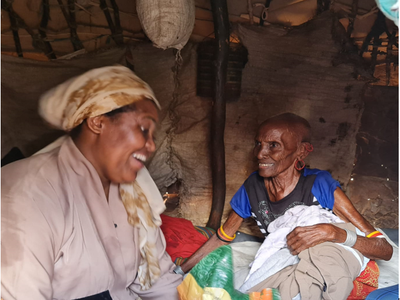 Khoboso advises that her husband was also a sponsored child, with his support coming from a pensioner in America. She says, "This why we formed the charity Kargi Pastoralist Link (UK & Kenya) to make the difference both here in the UK and at home in Kenya.
"As well as supporting needy children through school by paying their fees and providing basic needs, we also like to focus on the elderly in the community to give them the best care possible in the last few years or months of their life. While they are accustomed to hardship, it is good for them to see the other side of life too. I would like to provide the person-centred holistic care that we provide here in the UK to every elderly person in my community."
At the end of 2022, Khoboso organised a charity trip to Kargi in response to climatic conditions in Kenya and the Horn of Africa, which faced the worst drought in 40 years due to failed seasonal rains. Pastoralists move their livestock with the seasons in search of good pasture across the drylands, so families in Kargi were facing starvation because livestock has always been their main source of income and food.
Thanks to the generous contributions of colleagues from the Trust and the local community and with the support of volunteers from Nairobi, Khoboso travelled to Kargi in the Chalbi Desert, buying and distributing food packages to distribute to the most affected families and vulnerable elderly people there.
Khoboso explains: "People were facing a serious threat of food and water shortages because the severe dry spell had led to the death of so many livestock, including cattle, camels, goats and sheep. We managed to feed about 200 families altogether."
As well as providing the best care to elderly patients in Gloucestershire every day, Khoboso's experience on this charity trip provoked further thoughts about how to make a difference in her Rendille community.
She says, "Based on my experience here as a Care of the Elderly (CoTE) Nurse and practitioner, I assessed the situation of elderly people in my rural village. I think the best I could do for them is to build a centre for the elderly, which could meet their basic needs in life. Any ideas or support towards this would be hugely appreciated."
A Just giving page for raising funds for the Centre for the Elderly-Kargi has been set up and any donations will be welcomed.
This would not have been possible without huge financial and moral support from colleagues here at Gloucestershire Hospitals. I thank you all for your huge support. May you and your families be blessed.

Khoboso Hargura, Sister and Nurse Practitioner
Khoboso lives in Churchdown and is married with three children. One day, she hopes to return to Kenya and use her skills to further develop healthcare for pastoralist people.