Family, friends and carers are very welcome to visit patients on our wards.
Visiting during coronavirus (COVID-19)
All visits to our hospitals have been suspended until further notice, aside from compassionate visits to some departments across our hospitals.
You can drop in belongings for your loved ones, such as clean clothes, toiletries, or phone chargers in emergencies.Locations and timings of drop off points are:
Cheltenham General Hospital, Pillars entrance, Monday to Sunday 11am to 1pm
Gloucestershire Royal Hospital, outside the Chapel in the Tower Block, Monday to Sunday 11.00am to 1.00pm and 4pm to 6pm
Find out more information about visiting restrictions at our hospitals during coronavirus (COVID-19).
When to visit
Hospitals are a place of work for our doctors and nurses and a place of rest and recuperation for our patients, and some of our wards have a rest period during the day, which allows our patients to get extra rest for a speedy recovery.
Please ensure that you only come to visit patients during official visiting times. You will not be allowed onto a ward outside of visiting times other than in the most exceptional circumstances. We ask that there are no more than two visitors at any one time.

Visiting times at both hospitals for general medical and surgical wards are as follows:
Please note, maternity services, children's wards and the Department of Critical Care (ITU) may differ from these times so it is best to check with these wards before visiting.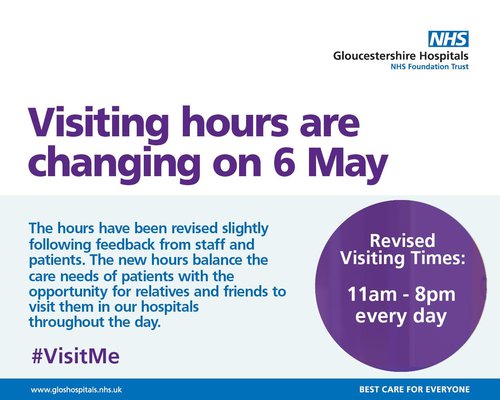 Check before you visit
If you would like to speak to a member of staff on a particular ward or find out more about the ward you are visiting, please call 0300 422 2222 or contact a Ward or Unit directly.
If you are feeling unwell
You should not visit our hospitals if you are feeling unwell as many of our patients are vulnerable to infections. In particular you should not visit a patient if you are suffering or recovering from any infectious illnesses such as diarrhoea, vomiting, coughs, colds or flu.
Carers: John's Campaign
Visiting times for carers of patients with dementia and other illnesses are different as we support their right to stay with their loved one during their hospital stay. Please speak to a senior member of ward staff for more information or read more about our commitment to support carers.