Clear face masks approved to enhance communication with deaf patients
Gloucestershire Hospitals has approved clear face masks, to help health and care workers to communicate with people with conditions such as hearing loss, autism and dementia throughout the pandemic.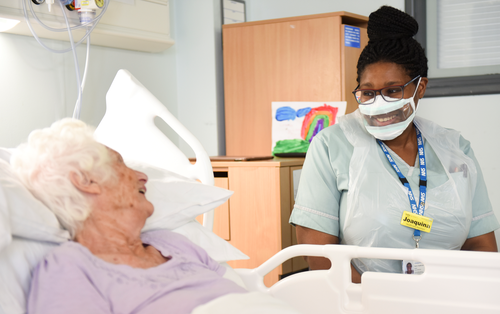 Clinical staff on Woodmancote Ward at Cheltenham General Hospital have already started to wear the masks which are proving to be very popular. Feedback so far suggests that patients with hearing loss can understand what is being said more easily, with the benefit of being able to see facial expressions and enabling lip-reading, which can make a huge difference to Patient Experience.
The Government has recently delivered 250,000 clear face masks to frontline NHS and social care workers throughout the UK. The masks which are see-through have an anti-fogging barrier to ensure the face and mouth are always visible to help doctors, nurses and carers communicate better with their patients.
One patient said, "This is the first person I've been able to have a proper conversation with" when they saw a staff member in the clear mask.
Carol McIndoe, Patient Experience Improvement Manager (Disability Equality Lead) said, "Being able to communicate effectively is so important; it can enhance a person's sense of well-being and even impact on patients' health outcomes. We would encourage the use of clear face masks if possible, it really makes such a difference to those with hearing loss."
The Best Care For Everyone