International Day of the Midwife 2023
Friday 5 May 2023 is International Day of The Midwife when we celebrate our midwives and everything they do for our community
The first international day of the midwife was launched in May 1991 with the aim of celebrating midwifery and bringing awareness of the importance of midwives' work to as many people as possible. It has a different them each year and this year's theme from the International Confederation of Midwives is Together again: from evidence to reality.
There are 1.9 million midwives across the globe, and approximately 40,000 in the UK. Did you know that the NHS supports the birth of 1,600 babies every day, which works out at roughly one birth every 54 seconds?
Chief Executive Deborah Lee commented: "I want to take this opportunity to offer my personal thanks to all of our midwives; I do not underestimate the very challenging context that you have been operating in and your commitment to your profession, each other and the families you serve continues to shine through, as evidenced by the most recent feedback from the CQC, the exceptional feedback from the national maternity survey and the very many compliments we receive on a daily basis. We join the global community of midwives in celebrating and recognising the contribution you make to our lives. Thank you."
Our Gloucestershire Midwives and other colleagues working in maternity services work tirelessly to care for women and babies in Gloucestershire, as you can see from the 2022 yearly summary below.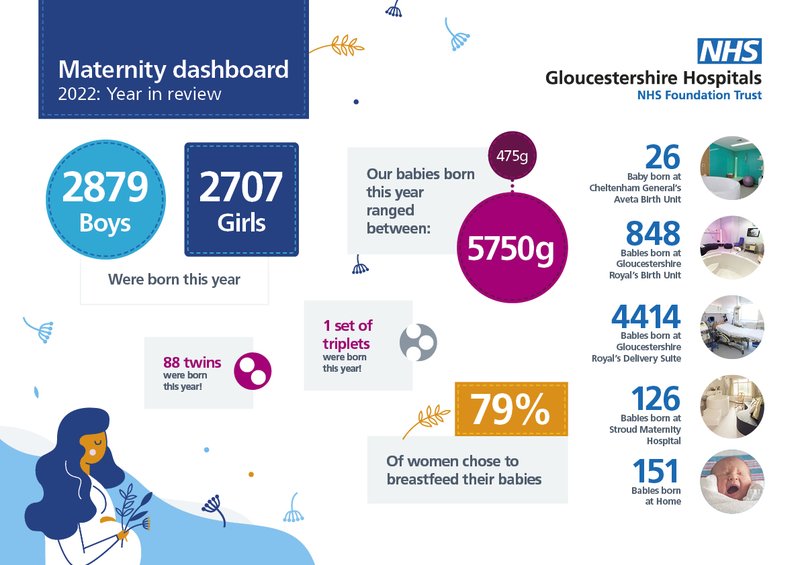 Our midwifery colleagues have a huge impact on the lives of our local communities as they support women, birthing people and their families through one of the most important moments in their lives. Thank you to all of them.

Lisa Stephens, Interim Director of Midwifery
Careers in midwifery
There are so many career opportunities in midwifery; in this highly skilled profession, you can find unique roles such as midwife researchers, digital midwives, bereavement midwives, diabetes specialist midwives, community midwives and many more. We have a dedicated recruitment and retention team who have introduced several initiatives in recent months to support our new starters, enable our current midwives to stay and thrive and also look further afield to recruit exceptional midwives from outside the UK.
One new initiative this year has been to launch the Bleep 1899 Support Line, which provides clinical and pastoral support for those midwives who are undergoing the preceptorship programme, are new to our Trust, are rotating to a new area or require additional clinical support.
Digital midwives
This year, our team of Digital Midwives have been working hard on the introduction of BadgerNet, a full electronic patient record (EPR) that supports clinical and administrative management of the entire maternity journey. BadgerNet is a trusted system used by maternity services across the country and will replace the current paper-based records.
Our team of digital midwives are excited to see this project becoming a reality and staff across maternity are telling us that they're delighted that the new system will release more time for providing direct care.

Joanne Crisp, Digital Midwife
The BadgerNet system will improve the quality of care for patients, while also helping staff do their jobs more efficiently. BadgerNet EPR provides our clinical staff with a single point of access to the information they need to make fast, informed decisions to provide the best quality care to all our patients.
Coming this summer, BadgerNet also comes with an online portal and app for expectant parents; BadgerNotes, which allows them to access their care notes throughout their pregnancy.
Digital Midwife Joanne Crisp says "Whether an expectant mum is seen by midwives in the community or comes to any maternity appointment, all the details of her pregnancy can be seen in real-time, from any location."
International midwifery recruitment
Bernice Olivia Aboah: My Band 5 Journey as an International Midwife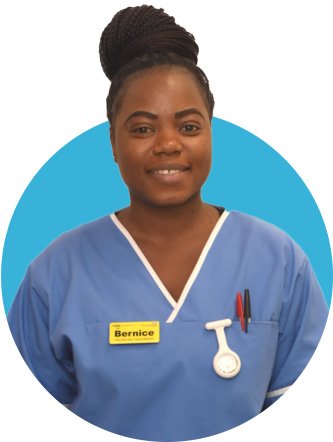 I am Mrs Bernice Olivia Aboah, I am married with a little daughter. My journey to the UK commenced when I decided to join my husband in London.
I took my International English Language Testing System (IELTS) and achieved the required band so I registered with NMC UK, I wrote my Computer Based Test (CBT), and passed. I then created an account on Trac Jobs and Indeed and started applying for preceptorship jobs. I got a job offer through an agency, who collected all the required documents and booked an interview for me. I had an interview with practitioners from Great Western, Gloucestershire Hospitals, and Salisbury NHS Trusts. After my interview, I received an offer letter from Salisbury NHS Trust and was waiting for my Certificate of Sponsorship (COS) to apply for my Tier 2 visa. I got information from the agency that I would be stationed at Gloucester instead of Salisbury. I accepted it in good faith, I had my COS and applied for the visa. Upon receiving my visa, the agency booked and paid for my flight ticket and brought me to Gloucester.
When I got to Gloucester, I was given temporary accommodation and later moved to my own rented accommodation. I was warmly welcomed by the recruitment team, Claire and Dagmara. I was given orientation on the various Midwifery units as well as some equipment being used in the hospital. I went for my induction programme organised by the hospital. I went through 12 weeks of OSCE training conducted at Swindon with other midwives from Great Western and Salisbury NHS Trusts. Alongside my OSCE training, I had supernumerary rotational shifts in the delivery suite, birth unit, maternity ward, triage, and anti-natal clinic.
I received great support and love from every midwife I worked with. My practice educators, Dagmara and Millie gave me massive support. After the 12 weeks of OSCE training at Swindon, Dagmara and Millie continuously organised OSCE training for me at Gloucester until I took my OSCE exams at Oxford Brookes.
My practice educators were so lovely and supportive that made me confident and competent in all ten OSCE stations even before I went for the real exams.

Bernice Aboah, Band 5 Midwife
After five months of training, I went for my OSCE exams and passed on the first attempt. I have finally received my PIN to work as a registered midwife in the UK. I really appreciate the good work, encouragement and support from my practice educators, Dagmara and Millie. I'm also grateful for the support received from all the shifts in-charges and other midwives I have worked with.
Although there are many differences in the midwifery setting between my home country and the UK, they were all lovely, making me feel relaxed and teaching me where they needed to. As I am commencing my band 5 role, I am hopeful that with all the training I have received and the continuous support from other midwives, I will be able to work with the multidisciplinary team to provide effective and efficient antenatal, intrapartum and postnatal care for service users and their families.