Lost Words artwork brings in the natural world to Care of the Elderly Ward
Specially commissioned artwork for the new Gallery Ward 2 at Gloucestershire Royal Hospital brings a sense of the peace of the natural world into the busy ward environment.
Based on the award-winning book The Lost Words, the series of beautiful illustrative works connects patients and staff to their lives outside the ward in a space that feels cared for and invested in. The artwork is a collaboration between the co-creators of the bestselling book The Lost Words by artist Jackie Morris and author Robert Macfarlane, and designer Alison O'Toole. Using words, themes, and images from its pages, the large-scale wall designs have been created to help de-institutionalise the space and bring some warmth and distraction for all those who use it.
Gallery Ward 2 provides care for the elderly, including those with dementia and others who are acutely frail. Part of a wider Centres of Excellence development programme, the new £4.5m ward opened earlier this year, with an environment that has been specifically tailored towards meeting the needs of patients with dementia.
Karen Anthony, Ward Manager for Gallery Ward 2 at Gloucestershire Hospitals said: "Our team are passionate about working with this particular group of patients and we've been further inspired and motivated by our wonderful new ward environment. As an enhancement to the dementia-friendly environment we helped to design, the Lost Words artworks bring a sense of calm to the ward and because many of our patients have lost some aspect of their communication skills or memory, it can help them to be reconnected to nature."
The Lost Words book began as a response to the removal of everyday nature words (among them "acorn", "bluebell", "kingfisher" and "wren") from a widely used children's dictionary because they were not being used enough by children to merit inclusion. The Lost Words then grew to become a much broader protest at the loss of the natural world around us, as well as a celebration of the creatures and plants with which we share our lives. Each 'lost word' is conjured back to importance through Robert's powerful words. He explains: "We've got more than 50% of species in decline. And names, good names, well used can help us see and help us care. We find it hard to love what we cannot give a name to. And what we do not love we will not save."
In wider discussions about health, we often hear about nature's power to enhance well-being and to heal. Jackie and I hope that our images and words, inspired by the living world, can offer a sense of calming, restorative beauty and well-being, as patients, visitors and medical staff use this space. As the son and brother of doctors, I have spent a lot of time on wards, and it moves me to see the care and imagination that has been put into aligning art and health in Gallery Ward.

Robert Macfarlane, author, The Lost Words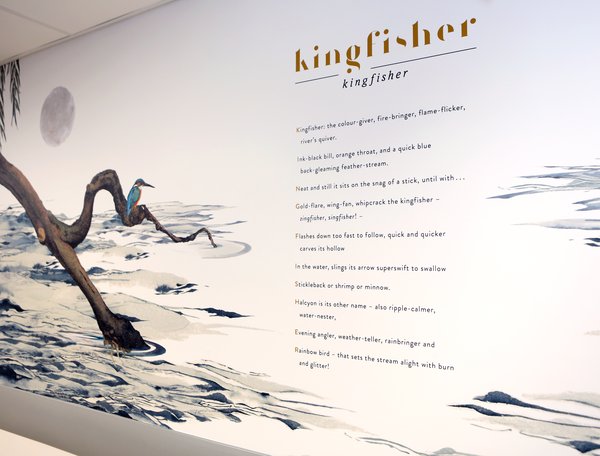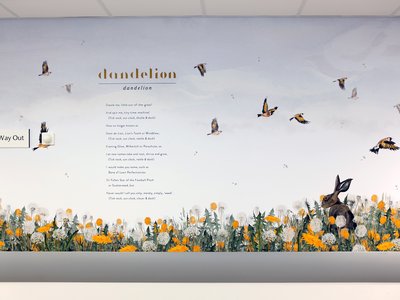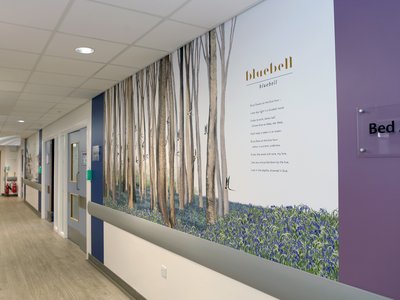 The commission was funded by the Cheltenham and Gloucester Hospitals Charity and curated by Niki Whitfield, Arts in Health Project Lead.
Niki said: "We are so happy and excited about the transformation it has made to the care of the elderly ward and the staff have been so complimentary about it, they clapped the printers after they had installed it, which we were all very touched by".
Richard Smith, Associate Director at Cheltenham and Gloucester Hospitals Charity, explains: "As a charity, we're here to help our local hospitals do even more, whether through funding technology such as new CT Scanners, supporting NHS staff or projects like this that enhance the hospital environment.
"Creating a peaceful environment for patients and staff that helps them to feel calm and relaxed can make such a difference to their experience.
"It's only thanks to donations, sponsorship and gifts in wills that we're able to fund amazing projects like these, and we're very grateful to everyone who has helped to make this possible."
The Lost Words artworks bring a sense of calm to the ward and because many of our patients have lost some aspect of their communication skills, it can help them to be reconnected to nature or a life that they remember well.

Karen Anthony, Ward Manager
About the Lost Words book
The Lost Words: A Spell Book by Robert Macfarlane and Jackie Morris was published in 2017 by Hamish Hamilton, an imprint of Penguin Random House UK and has had a transformative effect on all who have come into contact with it. Described as a 'cultural phenomenon' in the Guardian, it has been widely acclaimed as an instant classic, won numerous prizes, and inspired many creative thinkers, young and old.
Since the publication of our book The Lost Words, many things have happened to surprise and delight us. Perhaps the best of these things has been the inclusion of our work into hospital environments. The extraordinary design skills of Alison O'Toole have brought fresh air, peace and light into spaces where people are often in distress. To be a small part of this does great honour to our work.

Jackie Morris, Artist