More than 200 apprentices forging new careers at Gloucestershire Hospitals
Eight out of 10 apprentices at Gloucestershire Hospitals NHS Foundation Trust go on to find permanent work there, according to the latest figures.
Currently there are 210 apprentices working across more than 20 different areas at the hospitals from roles in clinical services such as maternity, theatres and outpatients to our vital support services including catering, medical engineering and creative media.
Many will go on to further their career at the Trust with around 85% of apprentices remaining there once their course has ended. Around 10% go into further education including professional degree programmes such as nursing.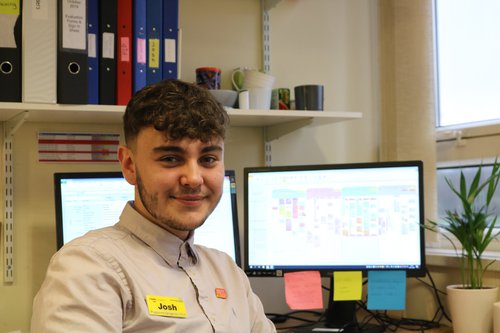 Josh Penston did a Level 3 Business and Administration apprenticeship and is now working in the finance department.
The 18-year-old from Gloucester said: "I decided to become an apprentice at the Trust because A-levels really were not working for me. I found working in an office a much better environment and I learned so much more on the job than I did in school.
"There is a perception of apprenticeships at the hospital will be clinical and you are going to be caring for people when actually I don't see any patients. We are a "back-office" function and it is really interesting to see how the hospital runs from that perspective.
"My apprenticeship finished last summer and since then I have been made permanent in the team and I am now a finance programme management administrator. I look after all members of the team and I provide them with administrative support for anything they need.
"What I loved about my apprenticeship was the variety of the people I got to meet – there were just so many opportunities I received that I would never have experienced if I hadn't have done my apprenticeship."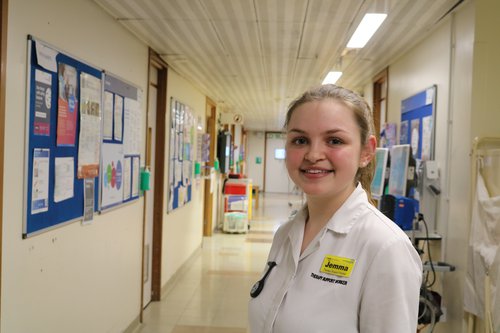 Jemma Parrott became a Therapy Support Worker on Ward 2A at Gloucestershire Royal Hospital after completing an apprenticeship in November 2019. She found out about the Therapy Support Worker apprenticeship through the NHS Jobs website.
"I decided to take on an apprenticeship because I wanted to progress my career but I didn't want to go to university at that time so I thought an apprenticeship would be the best way to get that experience and get stuck in," she said.
"During my apprenticeship, 20 per cent of my time was off the ward and the rest of it would be on the ward, so I would get a lot of hands-on experience with the patients.
"I would work alongside physiotherapists and occupational therapists planning discharges as well as helping patients with rehabilitation. I also did off-site studying to complete modules and there were a few exams at the end of it.
She added: "I would say to anyone looking for an apprenticeship to go for it as it is the best way to start your career and gain lots of experience as well as getting an education."
The 19-year-old from Gloucester has now set her sights on becoming an occupational therapist.
Ed Iles, Apprenticeships Manager, Gloucestershire Hospitals NHS Foundation Trust, said: "Apprentices are an integral part of our organisation and we offer career pathways for them to develop in. They are a valued and respected member of our workforce and supported as an individual to develop within their own potential.
"Many of our apprentices have gone on to become qualified nurses and clinicians as well as progressing through non-clinical routes such as IT, human resources and into junior management roles."
Anyone interested in applying for an apprenticeship at the Trust can find out more here https://www.gloshospitals.nhs.uk/work-for-us/apprenticeships/
To view live vacancies, visit NHS Jobs website
The Best Care For Everyone