Support Worker Celebration Week 2023
We're celebrating all our healthcare support workers (HCSWs) this week (from 20 - 25 November)
Our healthcare support worker (HSCW) colleagues are a pivotal part of our workforce. Without them, we could not deliver the best care to our patients and service users.
We're marking Healthcare Support Worker Celebration Week by sharing stories, saying thank you and, hopefully, encouraging others to come and join our Trust in a HCSW role.
Pivotal to providing the best patient care
Healthcare support workers work in a variety of roles across our Trust.
From healthcare assistants and nursing assistants, to therapy support workers, theatre assistants, maternity care assistants, maternity support workers and apprentices, they work under the supervision of a healthcare professional, supporting them and helping patients on their journey back to full health. Wherever they work, they play a vital part in providing excellent care to patients in the NHS.
We have so many incredible healthcare support workers whose expertise, care and compassion is remarkable, delivering personalised care in often difficult circumstances to patients, their family, and carers.
Support Worker Celebration Week offers us an opportunity to recognise and celebrate this often-unseen contribution. Last year, one colleague described health and social care support workers as "the backbone of the NHS". To all of our Support Workers, thank you for everything you do for our patients and colleagues.
Nursing Support Workers
It's Nursing Support Workers' Day on Thursday 23 November
The Royal College of Nursing (RCN) has called for everyone to "shine a spotlight on the nursing support workforce across the UK, highlighting the vital contribution they make to patient care in health and social care."
The RCN advises that they want to break down some of the preconceptions about nursing support workers and get to the heart of who they are, what they do and why they're essential to the nursing workforce. Nursing Support Workers' Day is an opportunity to amplify their voice, raise awareness, and celebrate the work they do.
Maternity Support Workers
It's Maternity Support Workers Day on Friday 24 November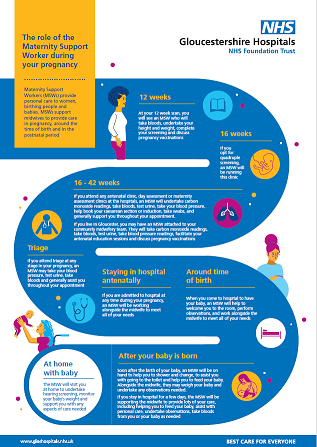 Maternity Support Workers (MSWs) work alongside Midwives and the wider professional team and are central to providing quality care and information to families who use our maternity services.
MSWs provide personal care to women, birthing people and babies, supporting midwives to provide care in pregnancy, around the time of birth and in the postnatal period
Maternity Support Worker Day is an opportunity for us to celebrate our wonderful MSWs and everything that they do to support care during pregnancy, around the time of birth and in the postnatal period.
This great infographic developed by MSW Kerrie Booth that outlines the role that MSWs play in caring for women, birthing people and families.
To all of our Maternity Support Workers, thank you for everything you do for our patients and colleagues.
AHP Support Workers
Support workers, senior support workers, assistants and assistant practitioners work in, with and alongside the allied health professions (AHPs), providing high quality, life- changing care across a range of acute and community services in the NHS. Their roles include therapy support workers, radiotherapy support workers and dietetic support workers.
AHP support workers' responsibilities can range from performing routine tasks, such as welcoming and preparing service users for treatment, to direct clinical and support tasks such as delivering treatment or helping service users meet their care plans.
Support workers are employed in the majority of AHP services, working with registered professionals and providing care and treatment to patients.
Health Education England (HEE) has developed a framework for AHP Support Workers and also has a range of great case studies about different roles.
Therapy Support Worker Vivienne Webb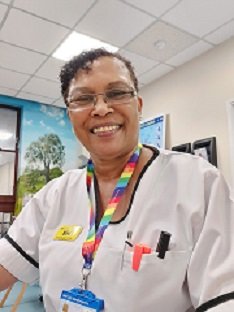 Vivien says: "I am a Therapy Support Worker which is a wonderful job. I have been working at this Trust for the past 6 years, based at GRH.
"Currently I work with the Roaming Therapy Review Team with Occupational Therapists, Physiotherapists and Support Workers.
"I treat all my patients as individuals with dignity and respect. I also apply empathy and aim for the highest standard of care.
"I believe in positive risk and consider home as first option. I love the satisfaction I get when after my care, a patient gets back to their baseline and can return home to their family and friends."
HCSWs at Gloucestershire Hospitals
Many of our Support Workers enjoy their supporting roles, but other Healthcare Support Workers are interested in developing their careers further to take advantage of the range of NHS career opportunities, including nursing associates and midwives.
Gloucestershire Hospitals values all the hard work that its HCSWs undertake, and provide a range of support and development opportunities via our Professional Education team.
We have an HCSW Shared Decision-Making Council, which aims to make a difference by encouraging our HCSWs to voice their opinions on how we can improve our care for patients by implementing new initiatives.