5HIAA (5-hydroxyindole acetic acid)
Chemical Pathology
Notes
5-hydroxyindole acetic acid (5-HIAA) is the major metabolite of serotonin which can be produced in excess by carcinoid tumours especially those exhibiting symptoms of the carcinoid syndrome; flushing, hepatomegaly, diarrhoea, bronchospasms and heart disease.
There is however a poor correlation between urinary 5-HIAA levels and the clinical severity of carcinoid syndrome.
Chromogranin A is another useful test in the investigation of carcinoid in patients who have normal renal function.
False negatives.
5-HIAA may be within normal limits with non-metastatic carcinoid tumour.
Patients without diarrhoea rarely show raised 5-HIAA even if they have carcinoid tumour.
False positives
Foodstuffs with a high serotonin content (see sample requirements)
5-HIAA may be raised in untreated patients with malabsorption syndromes such as coeliac disease, tropical sprue, Whipple's disease, stasis syndrome and cystic fibrosis.
Chronic intestinal obstructive disease and non-carcinoid islet tumours may also be associated with increased urine 5HIAA output.
Sample requirements
An initial screen can be performed without dietary restriction, but if equivocal or high then certain foodstuffs including bananas, tomatoes, chocolate, plums, pineapples, kiwi, avocados, aubergines, plantain and walnuts should be avoided for 3 days as they are rich in precursors of 5-HIAA.
Ideally the sample collection should coincide with an episode of symptoms (flushing, or diarrhoea).
Samples contaminated with blood or faeces cannot be assayed - in these circumstances please discard and request a fresh collection container.
The required sample is a 24 hour urine collection which should be kept cool during the collection period and sent to the laboratory as soon as possible after collection has been completed (ideally within 24h).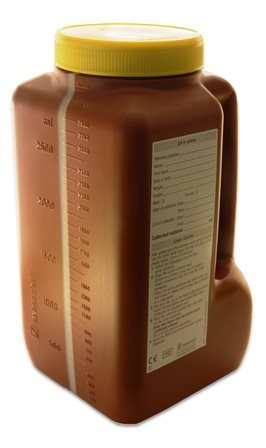 For patients with diagnosed NET, a random, mid-stream urine sample can be provided for monitoring of 5-HIAA creatinine ratio.





Storage/transport
Do not store. Keep cool and send as soon as possible (less than 24 hours after completion) to the laboratory for acidification.
Required information
Relevant clinical details including current drug therapy and indicating if the request is for diagnosis or follow up.
Turnaround times
The samples are sent to a referral laboratory for analysis, with results expected back within 4 weeks.
Reference ranges
Adult reference range for 24h urine collections: <42 µmol/24h
Creatinine will also be assayed to assess the completeness of the urine collection.
Reference range for 5-HIAA Creatinine ratio (random samples only): <4.0 umol/mmol creatinine
Further information
To learn more about 5-HIAA visit Lab Tests Online
---
Page last updated: 07/02/2019