Non- Gynae Cytopathology
Notes
These samples are obtained from patients that are in hospital either directly by the use of a syringe or from a tap.
This collection technique includes the following sample types:-
Ascitic fluid
Ovarian Cyst fluid
Pericardial fluid
Peritoneal washings
Pleural fluid
Renal cyst fluid
Miscellaneous cyst/fluid
Sample Requirements
25ml sterile universal or larger volume sterile containers for larger volumes of fluid.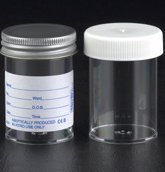 Anticoagulant is not required in these samples.
DO NOT SEND DRAIN BAGS TO THE LABORATORY. They are not designed to survive transport - a fresh sample collected directly from the drain is preferable. If taking from a drain bag mix the contents well before transferring a sample to a sterile plain universal (white top).
If aspirating fluid with syringe transfer sample to pot with minimal pressure to avoid damage to cells.
Storage/Transport
Store at fridge temperature.
Transport as soon as possible at ambient temperature.
Required Information
Turnaround Time
Routine non-gynaecological samples will be reported within 5 working days.
In cases when more complex pathology requires further laboratory investigations or referral for expert opinion a provisional report will be issued within the above time scale to be followed by a further complete supplementary report.
Urgent non-gynaecological samples will be reported within one working day of receipt.
For a sample to be treated as urgent the laboratory must be notified on Cheltenham 0300 422 4219.