Chemical Pathology
Notes
Lactate is the end product of anaerobic metabolism.
Lactate is generated mainly in skeletal muscle, brain, erythrocytes, the skin and the gut and is disposed of by gluconeogenesis in the liver and by complete oxidation.
Lactic acidosis can be due to excessive lactate formation or decreased removal.
Type A lactic acidosis is due primarily to an increase in lactate formation as a consequence of tissue hypoxia e.g. in shock (cardiogenic or haemorrhagic).
Type B lactic acidosis does not involve hypoxia as the primary event but is associated with the ingestion of drugs or toxins, severe liver disease and certain inherited metabolic conditions.
Lactate is an essential test in the assessment of sepsis in acutely unwell patients
Sample requirements
Lactate is normally assayed using the blood gas analysers situated in the emergency departments or the departments of Critical Care at both Gloucestershire Royal and Cheltenham General Hospital (a blood gas syringe which must be analysed within 5 minutes of collection is required)
Laboratory analysis is available if required as follows:-
Keep venous stasis to a minimum
Samples must be sent immediately to the laboratory (lactate is stable for 4 hours after venepuncture when collected into a fluoride-oxalate tube)
Please telephone the laboratory before taking the sample
For adults and children, 2 ml of blood taken into a fluoride-oxalate tube


For neonates, 0.25mL blood taken into a minicollect fluoride-oxalate tube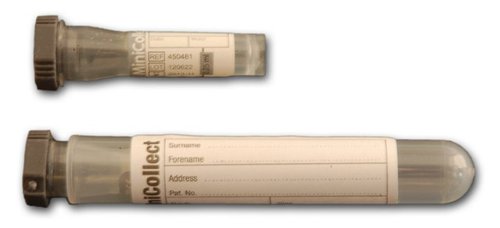 Lactate can also be analysed in cerebrospinal fluid however this test is rarely useful. Please refer to the CSF Lactate webpage for further details.
Storage/transport
Do not store samples. Inform the laboratory before sample collection and send sample immediately to the laboratory.
Required information
Relevant clinical details. Time of sample collection must be stated on sample and request form.
Turnaround times
The assays are run throughout the day and night on receipt of a telephoned request.
The in-lab turnaround time is less than 24 hours. The test can be ordered as an urgent request.
Reference ranges
Fasting venous lactate: 0.5 – 2.2 mmol/L
Further information
To learn more about lactate visit Lab Tests Online
---
Page last updated 05/08/2016