Semen post vasectomy check (PVS)
Notes
The first sample should be submitted a minimum of 12 weeks after vasectomy and after 20 ejaculations
If sperm are present a second sample will need to be examined within 1 hour of production. The patient should contact the laboratory on 0300 422 4200 to make an appointment.
Provided the guidelines regarding specimen timing and collection are followed, clearance can be given if the first sample is clear of sperm or if the repeat sample contains non-motile sperm at a count of <100,000 per mL
Persistent non-motile spermatozoa is not uncommon. 10% of men will continue to have residual non-motile sperm at six months post op. A sperm count of <100,000 per mL is considered low risk for unwanted pregnancy.
Men with low numbers of persistent non-motile sperm in their ejaculates (i.e. after 7 months and at least 24 ejaculates) may be given "special clearance" to discontinue other contraceptive precautions following appropriate counselling and advice regarding the risk of pregnancy
See also:
Sample requirements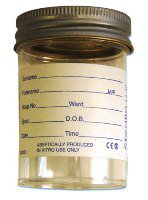 THIS MUST BE FROM A "TOXICITY TESTED" BATCH
These are supplied by Pathology
Patients should abstain from ejaculation for at least 48 hours but no more than 7 days prior to sample collection
Samples should be produced at home by masturbation directly into the container
The complete sample must be collected
Condom collected or withdrawal samples are NOT suitable
Please note the date and time of production on the sample and form
Factors which may affect test results

Incorrect container used - not tested for sperm toxicity. Certain brands and batches of containers are toxic to sperm and may affect motility results.
Abstinence period. If the patient has not abstained for 48 hours -7 days prior to sample collection, the numbers of sperm detected may be affected.
Collection of complete sample. If an incomplete sample is collected, this may affect sperm detection. Incomplete samples will be rejected.
Delay in sample delivery. If the sample is produced off-site, then it must arrive in the laboratory within 4 hours of collection for first samples and 1 hour for second samples. Any delays may affect motility results.
Temperature. If the sample is produced off-site, it must be kept warm during transport. An inside pocket, close to the body is recommended. Sample cooling may affect motility results.
Use of products during sample production. Any chemicals, for example soap or lubricants may be toxic to sperm and may affect motility results.
Required information
Date and time of production of the sample
Whether or not the sample is complete
Date of vasectomy
The number of ejaculations post vasectomy
Days elapsed since last ejaculation
Storage/transport
Patients are advised to keep the sample warm, e.g. in an inside pocket, keeping the sample upright.
Samples may be sent to the laboratory any working weekday between 08.30am and 04.00pm and within 4 hours of production for first samples and 1 hour for second samples
There is no service for this investigation at weekends
To maintain the standards of our service, we occasionally require fresh samples for quality control and training. We may use any surplus sample for these purposes. Please inform the laboratory on arrival if you do NOT give permission for us to do this with your sample.
Turnaround time
5 days
The result will be available from the clinician who perfomed the operation.