Notes
Testosterone is an androgenic steroid hormone, secreted mainly by the testes in males, but also from the adrenal cortex and the ovaries (in females).
Testosterone levels are indicated in investigation of:-
Amenorrhoea, hirsutism or signs of virilisation in females
Testicular failure/erectile dysfunction in males
Possible pituitary/hypothalamic disease in adult males
Precocious or delayed puberty in male children
Monitoring of androgen ablation therapy in treatment of prostate cancer
Sex hormone binding globulin (SHBG) is one of the transport proteins for testosterone. Changes in SHBG concentrations can result in large shifts in free and albumin-bound testosterone (bioavailable testosterone). Measurement of SHBG can be an important indicator of an excessive/chronic androgenic action where androgen levels are normal, but where clinical symptoms indicate androgen excess.
Sample requirements
If patient on high dose biotin therapy (>5mg/day) collect sample at least 8 hours after the last dose.
For adults, blood taken into a 5mL gold top gel tube (or rust top for the Acute Unit)

For children, blood taken into a 3.5mL rust top gel tube

For infants, blood taken into a 0.8mL minicollect lithium heparin tube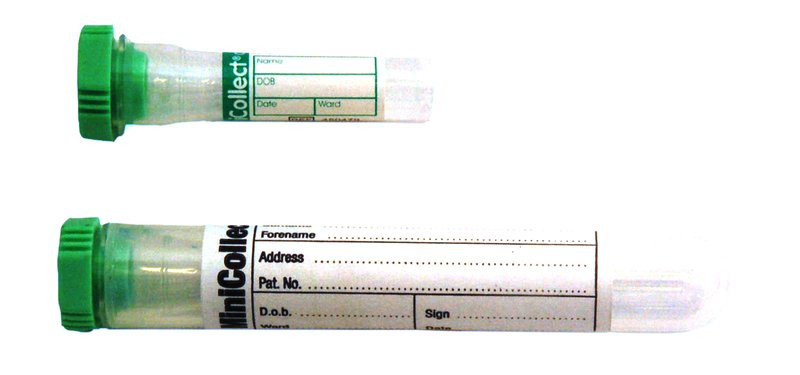 Storage/transport
Send at ambient temperature to the laboratory. If unavoidable, samples can be stored refrigerated overnight.
Required information
Relevant clinical details including rate of onset of hirsutism in females, any signs of virilisation, whether patient amenorrhoeic or cycling regularly, day of menstrual cycle and cycle length or any relevant details of symptoms in males.
Turnaround times
The in-lab turnaround time is normally less than 24 hours, except for female testosterone results >3.0 nmol/L. These are sent to the Queen Elizabeth Hospital in Birmingham for result confirmation by tandem mass spectrometry, where the turnaround time for analysis is 4 weeks.
Neonatal samples are also sent to the Queen Elizabeth Hospital Birmingham for analysis by tandem mass spectrometry with results expected back within 4 weeks. Please contact the duty biochemist if results are required more urgently.
Reference ranges
| Gender/Age | Reference Range | Units |
| --- | --- | --- |
| Males <50 years | 8-31 | nmol/L |
| Males >50 years | 5-31 | nmol/L |
| Females | < 1.8 | nmol/L |
Testosterone is assayed locally by an immunoassay method. Slight elevations in female testosterone levels may be due to assay non-specificity or associated with PCOS. Samples from female patients with results > 3.0 nmol/L will be sent to a referral laboratory for analysis by tandem mass spectrometry.
Further information
To learn more about testosterone, visit Lab Tests Online or for more information about hypogonadism, visit Endobible.
The Best Care For Everyone