Disruption at GRH from 12 September
To install critical infrastructure for the Emergency Department (ED) extension, we're bringing in a large crane from 12 September that will be lifted over the front of the Atrium. Alternative access for drop-offs is available.
At certain times over the next few weeks, this means that access to the ED and main atrium will be disrupted. This may cause congestion around the site and you may wish to allow extra time to get to your appointments.
There are four blocks of dates that this will be happening:
12 - 16 September inclusive (5 days)
26 - 29 September inclusive (4 days)
11 –13 October inclusive (3 days)
17 - 20 October inclusive (4 days)
Atrium users (including Outpatient appointments)
For vehicle access to the Atrium (drop-off), this means accessing the atrium via other routes; for example, the Therapies Entrance including disabled parking (access via Beacon House entrance). Disabled car parking is available as marked on the map.
For pedestrian access, this means following the green path indicated on the map
Patient transport ambulances dropping/picking up patients for outpatient appointments in the Atrium will need to use the London Road entrance at the back of the building
Deliveries into the Atrium will use the London Road entrance
Emergency Department (ED) users
Ambulances: normal route – unaffected by these works
Patient drop-off for ED: sharp right as shown on map
Pedestrians: follow signs and see the map below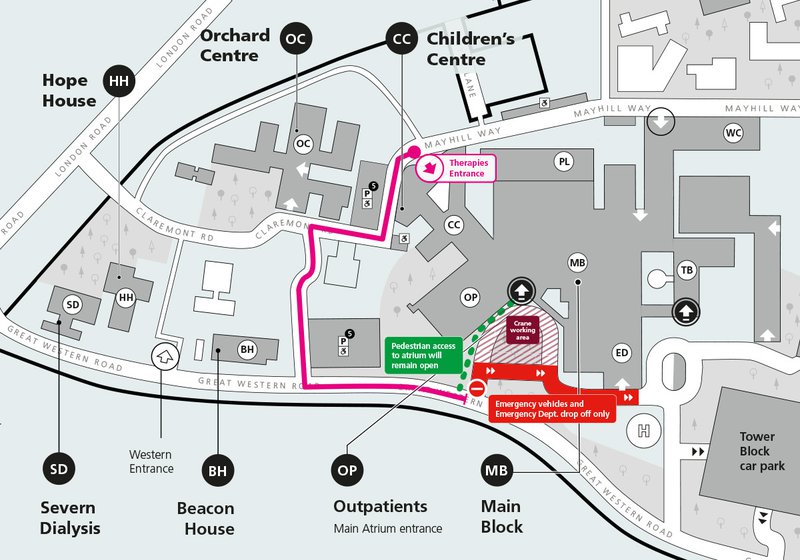 Internal corridor closures (ground and first floor of the atrium)
Two corridors will be closed while the crane disruption continues as cranes will be lifting over the building. This affects the corridor on the ground floor with the large timelapse photograph and the first-floor corridor between AMU and first-floor Outpatients. Signage will be in place. Please ask one of our volunteer team for help if you are unable to find your way.
These corridors will be closed during the day (0700 to 1800) and then re-open then for night-time use. Directional signage is in place.
Thank you for your patience as we work to improve our hospitals. More details about the programme