Disruption at GRH due to building works
From 28 November 2022, continuing building work at Gloucestershire Royal Hospital is likely to cause significant disruption and possible queues around the GRH site for two weeks.
This is due to resurfacing works at the roundabout outside the Tower Block and a Crane by the main Atrium Entrance. This may cause congestion around the site and you may wish to allow extra time to get to your appointment.
Gallery Ward: there will be no patient vehicle access to Gallery Wards, including patient drop-offs
Gallery Ward staff car park will be closed
People picking up or dropping off patients for Gallery Ward should park in the Tower Car Park and walk to collect the patient. Wheelchairs will be available at the points indicated on the map
There will be limited parking for EZEC and SWAST ambulances dropping off or collecting Gallery Ward patients at the front of the Tower Car Park (they can also use the rear access via London Road)
This will impact on the disabled spaces at the front on the Tower Car Park, please consider alternative disabled parking spaces as indicated on the map.
Atrium users (including Outpatient appointments)
For vehicle access to the Atrium (drop-off), this means accessing the atrium via other routes; for example, the Therapies Entrance including disabled parking (access via Beacon House entrance).
Disabled car parking is available as marked on the map.
For pedestrian access, this means following the green path indicated on the map
Patient transport ambulances dropping/picking up patients for outpatient appointments in the Atrium will need to use the London Road entrance at the back of the building
Deliveries into the Atrium will use the London Road entrance
Emergency Department (ED) users
Ambulances: normal route – unaffected by these works
Patient drop-off only for ED
Pedestrian Access to all routes
Pedestrian access is largely unaffected by these works, Since the GRH site is likely to be congested, please take extra care when crossing and follow the signs.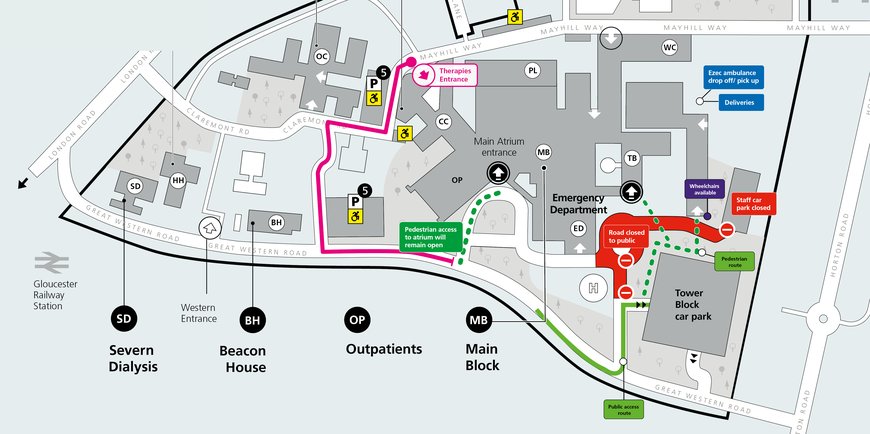 Information:
Please note that our Emergency Department at GRH has a new entrance - details here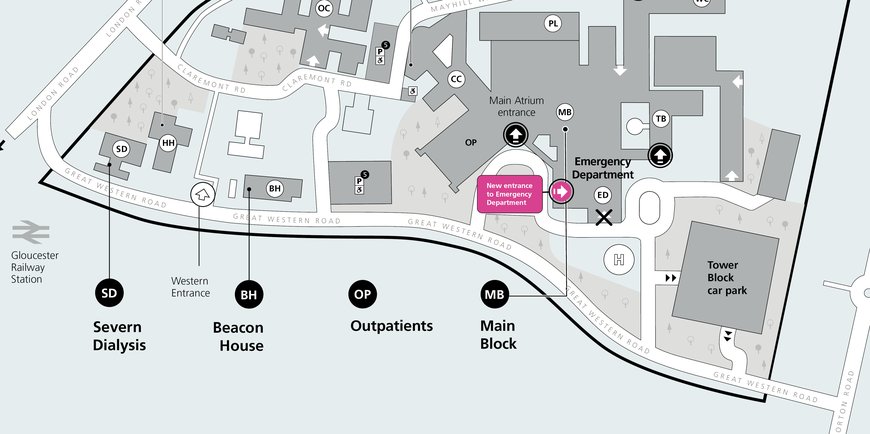 Discharge Lounge building work

To enable construction of the link corridor for the new discharge lounge at GRH, there will be no pedestrian access to the hospital via the Mayhill walkway, at the side of the Women's Centre.
This access will be closed from Thursday 8 December until 20 December. This may affect you if you are visiting Redwood Education Centre, our mortuary facilities and several departments adjacent to this walkway. Please see map below. Signage will be in place directing colleagues, patients and visitors to use the London Road entrance as alternative access.
Please note: deliveries to pharmacy are unaffected by this closure but deliveries to Medical Engineering will be routed via the pharmacy delivery road.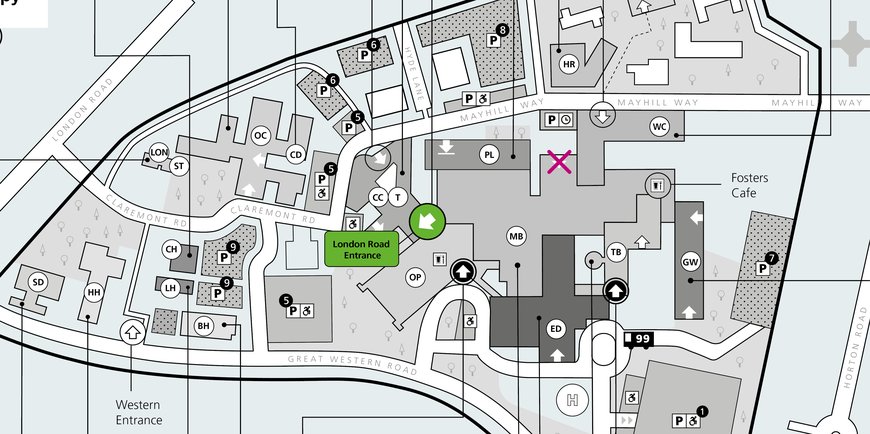 The Best Care For Everyone