Dr Alexandros Grammatikos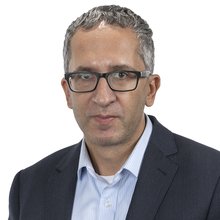 Date of registration
1 Jun 2005
Primary medical qualifications
MSc, PhD, FRCPath
Dr Grammatikos completed his MSc, at the University of Oxford in 2005 and PhD at Aristotle University of Thessaloniki, Greece in 2009. He is also licensed by the United States Educational Commission for Foreign Medical Graduates (2012) and has been a Fellow of the Royal College of Pathologists since 2020 .
Adult Clinics: Regular clinics are run every Wednesday morning for adults aged >16 years old at the Edward Jenner Unit, Ground Floor, in Gloucestershire Royal Hospital.
Day-cases: Immunology Day cases (e.g. Immunoglobulin infusions) are performed in the Haematology Day Care Unit, Ground Floor, Gloucestershire Royal Hospital.
Food/Other Challenges: Pre-arranged via North Bristol NHS Trust
New Referrals: Only for Immunology cases. All allergy is managed via Southmead. Please see Patient Referral Pathways via North Bristol NHS Trust