Join our Allied Health Professions (AHPs)
The Allied Health Professions (AHPs) comprise of 14 distinct occupations including: art therapists, dietitians, dramatherapists, music therapists, occupational therapists, operating department practitioners, orthoptists, osteopaths, paramedics, physiotherapists, podiatrists, prosthetists and orthotists, diagnostic and therapeutic radiographers, and speech and language therapists.
AHPs form the third largest clinical workforce in health and social care in England. They provide high quality care to patients and clients across a wide range of care pathways and in a variety of settings that include, hospitals, community, the independent and charitable sectors and schools. They work in health promotion to prevent accident or illness, they are active in treatment and rehabilitation and they promote self-help and independence.
A career in the allied health professions makes you highly employable, allows you to help people every day and gives you the flexibility to live and work anywhere.
Read on for more information about a few of our AHP specialties below or visit NHS Jobs to find out what opportunities are currently available at our hospitals in Gloucestershire or email our friendly recruitment team: ghn-tr.recruitment@nhs.net alternatively Find out more information about AHP Careers here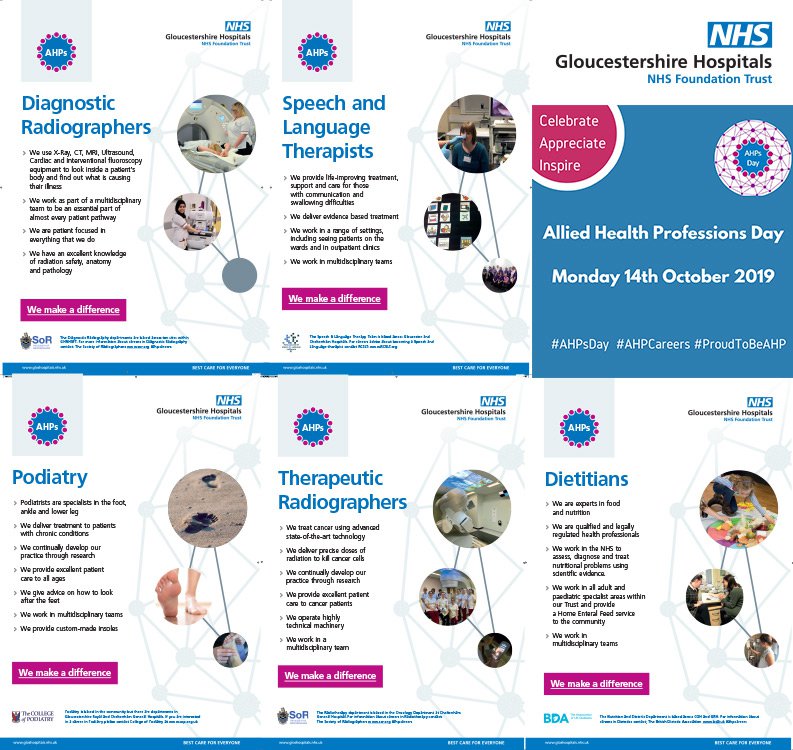 Physiotherapy and Occupational Therapy
Physiotherapy helps restore movement and function when someone is affected by injury, illness or disability.Physiotherapists help people through movement and exercise, manual therapy, education and advice.
They maintain health for people of all ages, helping patients to manage pain and prevent disease. They enable people to stay in work and also help them remain independent for as long as possible: www.csp.org.uk/Occupational therapy takes a "whole-person approach" to both mental and physical health and wellbeing and enables individuals to achieve their full potential.Occupational therapists consider all of the patient's needs - physical, psychological, social and environmental and provide practical support to empower people to facilitate recovery and overcome barriers preventing them from doing the activities that matter to them.
Occupational therapists play a critical role in helping people of all ages overcome the effects of disability caused by illness, ageing or accidents so that they can carry out everyday tasks. This support can make a real difference giving people a renewed sense of purpose, opening up new horizons, and changing the way they feel about the future: www.rcot.co.uk
Dietetics
Registered dietitians are qualified health professionals that assess, diagnose and treat diet and nutrition problems at an individual and wider public health level.Dietitians use the most up-to-date public health and scientific research on food, health and disease, which they translate into practical guidance to enable people to make appropriate lifestyle and food choices.
Dietitians are statutorily regulated, with a protected title and governed by an ethical code, to ensure that they always work to the highest standard.The spectrum of environments in which dietitians practise is broad and includes the NHS, private practice, industry, education, research, sport, media, public relations, publishing, non-government organisations and national and local government.
Their advice influences food and health policy across the spectrum from government to local communities and individuals
Find out more about this career at: www.bda.uk.com
Therapeutic Radiographers Radiotherapy
Therapeutic radiographers specialise in the planning and administration of radiotherapy treatment for patients, most of whom have cancer. Using a range of highly technical equipment, you'll deliver accurate doses of radiation to tumours to destroy diseased tissue, while minimising the amount of radiation to surrounding healthy tissue.
Therapeutic radiographers must be scientifically minded, good communicators and able to remain calm under pressure.
As part of the radiotherapy team, you'll have lots of contact with patients before, during and after their treatment, and will play a vital role in helping them cope with the daily side effects.
Therapeutic radiographer is a protected title with the Health & Care Professions Council (HCPC).Most therapeutic radiographers are based in radiotherapy departments in NHS hospitals or in private hospitals.Jobs are available throughout the UK.
There is currently a national shortage of therapeutic radiographers (although this varies in differing parts of the UK). The recent increase in the number of treatment centres has led to increased flexibility for radiographers looking for work.
Self-employment or freelance work is not possible. The job is physically strenuous as it involves moving and lifting both patients and equipment. You'll be encouraged to develop resilience to cope with the demands of dealing with patients who have been diagnosed with life-threatening conditions.
The job entails:
planning a course of treatment with other therapeutic radiographers, clinical oncologists and medical physicists
explaining the treatment and the processes used to your patients in order to help them make an informed decision about their treatment
calculating the radiation dosage needed
administering radiation treatment accurately and safely
operating equipment responsibly and confidently
developing a professional relationship and rapport with your patients and their families to gain their cooperation and trust
explaining to patients the management of acute and long-term radiotherapy side effects and ensure they're followed up appropriately after treatment
liaising closely with a range of staff, including other therapeutic radiographers, clinical oncologists, medical physicists, engineers, doctors and nurses
keeping accurate, computer-based records
attending inter-professional team meetings
actively engaging with continuing professional development (CPD)
supporting learners in the clinical learning environment
promoting awareness of cancer through providing health advice.
Working hours
Core hours in a department are typically 8am to 8pm, across a 37.5-hour working week.Part-time work and job sharing are possible, depending on departmental needs. Career breaks are possible.
Personal Skills Required
You'll need to have:
excellent communication and interpersonal skills
emotional resilience to cope with patients nearing the end of their life
the ability to empathise with your patients and families
accurate attention to detail as you may be working on complex treatments
the ability to work as part of a team
decision-making skills
confidence to work with technology
flexibility and the ability to adapt to developments in working practices.
Professional Development
Throughout their career, a Therapeutic Radiographer can develop into a variety of areas within oncology services. These can include;
Management – Leading and running a department
Consultant Radiographer Roles – Working clinically at Consultant level specialising in a certain tumour site
Teaching – working with/for a Higher Education Institute lecturing in Radiotherapy
Clinical Research Treatment
Review of patients
Radiotherapy Planning
For further information about a career in Therapeutic Radiography visit: www.sor.org