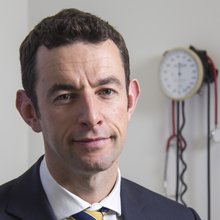 Contact
Date of registration
1 Aug 2001
Primary medical qualifications
MA (Cantab), MB/BChir, FRCS, MD
Consultant Colorectal & General Surgeon
Area of expertise
Mr. Roe is a colorectal and general surgeon with a special interest in robotic colorectal resection. He also performs paediatric general surgical day-case surgery.
Open and laparoscopic resection for benign and malignant colorectal pathology
Laparoscopic and perineal procedures for prolapse and incontinence
Proctological procedures for anal fissure, fistula-in-ano, haemorrhoids and pilonidal disease
Lower gastrointestinal endoscopy, including management of colorectal polyps
Abdominal and groin hernias.