Radiotherapy is a treatment where radiation is used to kill cancer cells.
Contact us
Bridget Moore – Radiotherapy Services Manager 0300 422 3363
Alison Round – Treatment Operations and Deputy Radiotherapy services Manager 0300 422 2919
Clare Salmon – Pre-Treatment, Planning and Deputy Radiotherapy Services Manager 0300 422 4043
Radiotherapy Bookings 0300 422 4471
Pre-Treatment 0300 422 4042
Radiotherapy is an integral part of the treatment for many malignancies.
The radiotherapy department at the Gloucestershire Oncology Centre serves both the local population of Gloucestershire and the population of Herefordshire, parts of Worcestershire, Wiltshire, Shropshire, Swindon and Powys. The department is managed as one service, delivering radiotherapy at Cheltenham General Hospital and our Satellite Centre in Hereford County Hospital.
We treat approximately 2700 patients a year across both sites, adding up to around 35,600 visits annually for treatment.
Radiotherapy is used to treat many different forms of cancer and the radiotherapy department covers treatment to all main tumour sites.
Most cancers can be treated at both sites using high precision Linear accelerators, but Brachytherapy treatments are delivered at the Cheltenham site only.
It continues to meet the cancer waiting time targets for access to radiotherapy treatment.
Aims of the department
For every patient the aim of the department is:
to provide patients with the highest standards of care with quality, precision treatment and support
to treat all patients with dignity, respecting their privacy and personal preferences
to listen and respect patient's wishes and work together to produce the best possible treatment experience
For our staff we aim:
to ensure they feel valued at work and are supported
to support them in enhancing and advancing their clinical skills and developing themselves professionally
Expert-led multidisciplinary team
Radiotherapy treatment is decided, planned, checked and delivered by a multidisciplinary team of tumour site specialist clinical oncologists, therapeutic radiographers and medical physicists. Radiotherapy staff are a highly skilled multidisciplinary team who all work to provide patient-centred, safe, evidence-based, high-quality care.
The department employs approximately 65 staff within Radiotherapy. There are male and female radiographers, so patients may request a chaperone if they wish.
Radiotherapy equipment
The department has an equipment replacement program with a commitment to invest in new and replacement equipment which enables us to continue to provide the latest techniques and treatments.
Here are the units listed by both department and manufacturer name:
Treatment equipment at Cheltenham Hospital:
Cherry - Varian TrueBeam Linac with On Board Imaging
Rowan - Varian iX Linac with On Board Imaging
Oak - Varian iX Linac with On Board Imaging
Beech - Varian iX Linac with On Board Imaging
Chestnut - Brachytherapy Suite
Xstrahl - Superficial skin unit
Treatment equipment at the Hereford Satellite
Maple - Varian TrueBeam Linac with On Board Imaging
Opening hours
Pre-Treatment / Planning 9.00am – 5.30pm
Treatment 8.00am – 6.00pm
The department works extended days to accommodate all patients when a machine is being routinely serviced. On those days the department works 8.00am-8.00pm
Evidence-based treatment
The department routinely delivers intensity-modulated radiotherapy (IMRT) with image-guided radiotherapy (IGRT). Patients with left sided breast cancer are routinely treated using a deep inspirational breath-hold technique (DIBH). Arcing and adaptive radiotherapy (ART) are used to minimise the effect of organ motion, enabling high precision targeting of the tumour.
Research
Within the Radiotherapy department, we pride ourselves on contributing to the development of new treatments and techniques meaning that our patients have the opportunity to benefit from the most recent developments.
Research within the department encompasses local innovations and contributes to national and international clinical trials. Not only do trials support technique developments to benefit future patients but undertaking research also means that current patients benefit from ground-breaking treatments earlier than they would otherwise.
We are grateful to those patients who volunteer to take part in research trials.
The oncology trials team is staffed by a research Radiotherapy Radiographer and research nurses who are supported by a team of specialist administrative staff. The team works closely with the clinical Oncologists to organise and support clinical research at Gloucestershire Radiotherapy Department. If you have any questions about radiotherapy research, please do not hesitate to contact us.
Research contacts:
Anne McKenna (Research Lead Radiographer) 0300 422 2919
Oncology Research Team 0300 422 3445
Education and training
Gloucestershire Oncology Centre undertakes the training of radiotherapy students and the continuing professional development of its radiotherapy staff for Masters Qualifications and advanced practice. We are partners for the delivery of education and training with the University of the West of England and Birmingham City University.
Radiotherapy students are present in the department when they are on clinical placement and are closely supervised at all times. Patients may request that a student is not present if they so wish.
Quality assurance
The department has been accredited by the British Standards Institution (BSI 9001:2015) for providing a high-quality service to patients and continues to be assessed, annually, against this quality standard.
The staff works under a system of clearly documented protocols and procedures contained within the department Quality Management System. This ensures that consistent high quality treatment processes are assured and audited.
Quality Assurance testing on all the department equipment takes place on a daily, weekly, monthly, quarterly and annual basis by the Radiographers, Radiotherapy engineers and the Medical Physicists.
Radiotherapy pathway
There are several stages to the radiotherapy pathway.
Consent – this is where your consultant clinical Oncologist will provide you with all the information to make an informed decision about whether to continue with radiotherapy treatment.
Pre-treatment appointments – this is where the planning process for your individualised treatment begins and includes Mould Room appointment and Planning CT (access via the jump links).
Treatment
Review
Mould room appointment
Patients having treatment to the head and neck region or limbs may require a mask to be made on the same day as their pre-treatment Planning CT. The mask will immobilise the area of the body to be treated, ensuring that the position is consistent for each high precision treatment. The mask also provides a surface to draw any relevant marks required for treatment.
This mask will be made in the Mould Room.
The masks are made from a thermoplastic mesh which is softened in warm water and the stretched and moulded to the shape of the area required. The mesh takes 10-15mins to cool and set. It then fits like a 'second skin'. This mask is then worn for the pre-treatment Planning CT scan and for each radiotherapy treatment. Patients are able to breathe comfortably throughout.
The staff will fully explain the mask making process when patients arrive for their planning appointment. Patients will be asked to remove any clothing and jewellery from around the area to be treated and change into a gown. This is to ensure a good fit of the mask and prevent clothes getting damp in during the production process.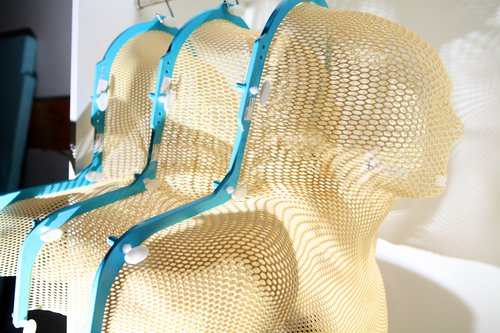 Radiotherapy planning CT
Patients requiring radiotherapy treatment will attend for a pre-treatment appointment where they will have an introduction into the radiotherapy department. Any questions that they may have outstanding from their discussion with their referring consultant can be addressed at this time.
In order to plan the radiotherapy patients be required to have a planning CT scan which will enable their consultant to accurately target the treatment area.
If a patient is required to complete any specific preparation for their scan, bladder filling for example, they will be advised by letter or on the day of their scan. Some patients may have to have an injection of contrast to enhance the images; the radiographers will advise if this is required.
Some patients requiring radiotherapy to the head and neck area or to a limb will require a custom made immobilisation device, enabling them to lie in a reproducible position. Please see Mould Room for more information on this.
Permanent dots made with a needle and ink may be placed on the patient's skin to enable set up for treatment. These dots will roughly be the size of a freckle.
Once the scan is finished patients are free to leave once any further appointments or administrative issues are resolved. There are no restrictions regarding contact with children.
Individualised planning
Once the Planning CT scan has been completed, the planning process begins. This process occurs in the time between a patient's CT scan and commencing their radiotherapy treatment and involves the Consultant, Planning Radiographers and Physicists.
The Consultant will review the CT images on the computer. Using this CT information (and data from previous diagnostic scans and investigations) the Consultant will outline the area on the CT images that they would like to give treatment to. The Consultant decides on the prescription: the overall dose (measured in Gray) and how many treatment sessions (fractions) you will attend for.
The Planning Radiographer will follow departmental protocols to create a treatment plan which aims to deliver the prescribed dose to the specific outlined area whilst minimising the dose to surrounding normal tissue (therefore minimising side effects the patient may experience).
The Planning Radiographer aims to achieve the optimal treatment plan which will target the cancer cells (or the site where the tumour was originally removed from). Utilising their specific knowledge, the Planning Radiographer will manipulate the planning software using a number of different techniques in order to achieve a plan which meets all of the protocol objectives.
Once the plan has been completed, it is then shown to the Consultant for their approval. Before the plan is fully approved it will be independently checked by a Physicist. The Physicist verifies plan parameters, plan quality and overall dose distribution. Once approved, the plan is now ready for treatment.
Treatment
Radiotherapy Treatment is administered by Therapeutic Radiographers. These are highly skilled male and female professionals who train for 3 years for a specialist degree in Radiotherapy. Many Senior radiographers go on to Masters education and develop their skills into advanced practice. The radiographers work in teams on each treatment machine. Each team is led by a Senior Team Lead Radiographer. The treatment units in Cheltenham and Hereford are supported by Technical Lead Specialist Radiographers and the Treatment Operations Manager. The Radiotherapy Service Manager is also a professional Therapeutic Radiographer and manages the Service across both sites.
Patients will receive their Radiotherapy treatment on a Linear accelerator. This is a highly precise machine that uses electrically generated radiation to target the tumour to millimetre accuracy. Patients will come to know their team of Therapeutic Radiographers on their treatment unit during their treatment.
Treatment machines are regularly serviced and quality assured by the Radiotherapy engineers and Medical Physicists. When a machine is out of service, the patients from that machine will be transferred to another treatment unit and the working hours of the department will be extended to 8pm. This will not affect a patient treatment because the machines are compatible and treatment is delivered the same on each machine, however patients will be asked to adjust their appointment times in order for the remaining units to accommodate the additional patients.
When the Hereford machine is being serviced, Hereford patients will be required to attend Cheltenham for their treatment as there is only one Linear accelerator in Hereford.
The Treatment process
On the first day of treatment the radiographers will talk the patient through the treatment process and answer any questions.
Some patients may have to prepare themselves for treatment by filling their bladder etc. as they did when they had their planning scan.
Patients will be required to remove their clothing for treatment over the area to be treated. They can do this in a changing cubicle or in the treatment room. There are hospital gowns but patients are welcome to bring their own dressing gown if they wish to do so.
In the treatment room, the Radiographers will move the patient into the exact position that they were when they had their planning scan.
Once the patient is precisely positioned, the Radiographers have to leave the treatment room to turn on the machine, sounding a small buzzer as they leave.
During the treatment, the Radiographers are watching the patient outside the room on CCTV and are also able to hear and talk to the patient to reassure them. The CCTV is a live link and it is not possible to record any images, so patient can be reassured that their privacy and dignity is upheld throughout the treatment process.
All patients receive image guided radiotherapy (IGRT). This is where images are taken prior to treatment which are overlaid onto the patient's planning images to ensure that the patient is in exactly the correct position. Any millimetre corrections are then made prior to the treatment being administered.
The machine may move around the patient during imaging and treatment. This is controlled all the time, remotely, by the Radiographers outside the room.
When the machine is switched on, the patients will not feel anything but they may hear a buzzing sound as the treatment is being given.
A patient's time in the treatment room varies depending on what they are having treated but the average time is between 15-20 minutes. The majority of time is taken with positioning ready for treatment and the machine is only switched on for a fraction of this time.
Treatment review
During the course of radiotherapy patients may have review appointments – this will either be with their oncologist or one of our on-treatment review radiographers.
The on-treatment review radiographers are specially trained in assessing and managing the side effects which may be caused by radiotherapy treatment. These side effects are individual to each person and depend on the area of the body being treated. Patients will be given specific information about any side effects that they may expect to experience.
As a team we are here to help and support our patients through radiotherapy – at each review appointment they are given the opportunity to ask questions and talk about anything that is concerning them. We ask patients about their side effects and offer advice to help them deal with these. There are two review Radiographers who are qualified as independent prescribers who may also prescribe medicines if this is required.
We can also refer our patients to other healthcare professionals or services that they may find helpful – including psychological support, physiotherapy & occupational therapy, dietetic advice and much more.
Common Side Effects of Radiotherapy
Fatigue – some patients find they feel more tired than usual. This may be directly due to radiotherapy, travelling to the department or disturbed sleep patterns. We encourage patients to keep active, as this can help overcome fatigue, anxiety and depression.
Radiotherapy-related skin reactions – some radiotherapy treatments can cause the skin to gradually become pinker or darker, feel dry, itchy or sore. Please be reassured that the radiographers will discuss the likelihood of this happening and offer advice on how to care for your skin. We advise that patients can moisturise the treated area but please ensure that this is with a product that doesn't contain sodium lauryl sulphate as this can cause irritation.
Brachytherapy
Brachytherapy is a form of radiation treatment which is given from inside the body. A small radioactive source is placed inside or next to the area which needs to be treated. The source passes into an applicator which is inserted into the patient so the treatment can be given accurately. As it is an internal treatment only the tissues close to the applicator are affected. Brachytherapy may be delivered as well as external beam radiotherapy or alone as a single treatment. Brachytherapy is used to treat cancers of the endometrium, cervix, vagina and vulva.
Join our radiotherapy team
The Gloucestershire Oncology Centre offers its Radiographers the opportunity to develop and advance their practice. It is a busy department based in one of the largest Acute Trusts in the UK. There is a Planning CT, Mould Room, 5 Varian Linacs operating with Aria software, a Brachytherapy suite and a superficial unit.
The department delivers IMRT, IGRT, ARC and ART techniques and has a large research portfolio.
We are a centre for clinical placements for the BSc and MSc Therapeutic Radiography students from the University of the West of England in Bristol and Birmingham City University and all staff are required to be fully involved in the training of these students.
There are several dual roles in the department where staff rotate every 6 months between pre-treatment and treatment or planning and pre-treatment.
There is a team of Brachytherapy specialist Radiographers who work on the treatment units and Brachytherapy and a team of Review Radiographers who work on the treatment units and run the review clinics so there are plenty of opportunities for diversifying within this department.
The treatment planning is led by Radiographers alongside Radiotherapy Physics using Pinnacle software. Pre-treatment and planning Radiographers have extended their roles to run Breast Mark-up clinics .
The department has a Breast Consultant Radiographer who manages breast patients from MDT to FU and a Research Lead Radiographer who implements and manages Radiotherapy trials.
The department is supported by a Radiotherapy Administrator and a team of Radiotherapy support workers who have diverse clinical and administrative duties from phlebotomy to data entry and clinic preparation.
We believe in competency-driven development, with our junior staff having the opportunity to develop their imaging competencies for 3D volumetric imaging and Senior Radiographers operating as practitioners for concomitant exposure.
Staff are encouraged to undertake further education MSc modules and radiographer-led research as well as attend study days and conferences.
For a detailed structure of the department click here
Cheltenham is a beautiful town, close to Cotswolds and with easy access to the M5
Any vacancies are advertised on NHS Jobs but if you wish to express an interest in working with us and /or you wish to visit the department please contact:
Emma Charman, Education and Development Lead Radiographer 0300 422 2919
Bridget Moore, Radiotherapy Services Manager 0300 422 3363
We welcome comments and suggestions to help improve our service
The responsibility for overall management of the service lies with the Radiotherapy Management Group, which comprises the Head of Service, the Radiotherapy Service Manager and the Head of Radiotherapy Physics. This group meets monthly and feeds in to the Radiotherapy Sub-Group and the Divisional Clinical Governance Meeting. Any comments concerning our service are gratefully received.
Dr Warren Grant, Radiotherapy Head of Service and Clinical Oncologist
Bridget Moore, Radiotherapy Services Manager
Penny Latimer, Head of Radiotherapy Physics
Support our cancer services
Focus is the charitable fund for the Gloucestershire Oncology Centre, raising funds which directly provide extra care, specialist equipment and improvements to facilities for local cancer patients.