Radiotherapy is an integral part of treatment for many malignancies, it is a cancer treatment where radiation is used to kill cancer cells. It may be used in the early stages of cancer treatment or after it has started to spread.
Location
The radiotherapy service at Gloucestershire Oncology Centre is split across two sites Cheltenham General Hospital and Hereford County Hospital. We treat patients from Gloucestershire, Herefordshire, Worcestershire, Wiltshire, Shropshire, Swindon, and Powys. We treat approximately 2700 patients a year across both sites, adding up to around 35,600 visits annually for treatment.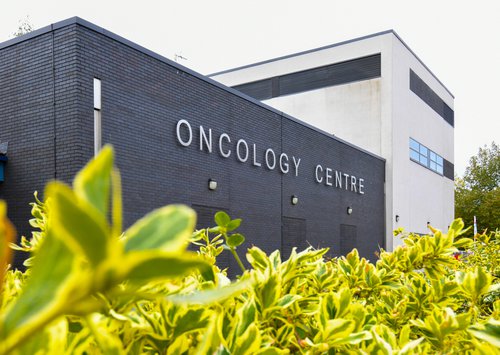 Contact
Enquiry
Bridget Moore – Radiotherapy Services Manager 0300 422 3363
Clare Salmon – Pre-Treatment, Planning, and Deputy Radiotherapy Services Manager 0300 422 4043
Lisa Addis - Operations Manager 0300 422 2919
Bookings - 0300 422 4471
Our opening hours are:
8am to 6pm for radiotherapy treatment
9am to 5.30pm for pre-treatment and planning appointments
8am to 8pm when our machines are being serviced or during high periods of demand.
Aims of radiotherapy department
For every patient the aim of the department is:
To provide all patients with the highest standards of care with quality, precision treatment and support
To treat all patients with dignity, respecting their privacy and personal preferences
To listen and respect patient's wishes, working together to produce the best possible treatment experience
For our staff we aim:
To ensure they feel valued at work and are supported
To support them in enhancing and advancing their clinical skills and developing themselves professionally
Radiotherapy treatment is decided, planned, checked and delivered by a multidisciplinary team of tumour site specialist clinical oncologists, therapeutic radiographers and medical physicists. Radiotherapy staff are a highly skilled team who all work to provide patient-centred, safe, evidence-based, high-quality care.
The Best Care For Everyone