Share in our team experience with hours to suit you.
With competitive rates of pay up to £36.20 per hour and a thriving, supportive team environment – it's never been a more rewarding time to join our Bank.
Additional benefits include:
Weekly pay for all Bank workers
Priority over agency workers
Manage your career online via a mobile booking system
Friendly, on-site team available seven days a week
Auto enrolment into the NHS Pension scheme
Long and short term flexible opportunities are available across all specialities and shifts across both Cheltenham General Hospital and Gloucestershire Royal Hospital.
How to join
We are really excited to expand the Flexible.Ours community which is an integral part of our Nursing family at our hospitals.
We have a Registered Nurse post open continuously on NHS Jobs so please complete an application form and our Clinical Lead for Temporary Staffing will be in touch. If you are successful and are shortlisted you will be invited to attend an interview with a small and experienced panel.
We are also looking for experienced Healthcare Assistants and positions are advertised on NHS Jobs every month. If you are shortlisted you will be invited to attend an assessment morning, which is likely to take place on a weekend. The interview process for these positions involves a numeracy and literacy test, participation in a group scenario and a short 1-1 interview.
Interested? For more information in how to become one of Ours, please contact: or contact our Operational Support Manager for Temporary Staffing and e-Rostering Hannah Farr on: 0300 422 6929
Bank rates
| Weekday early | Weekday late | Weekday night |
| --- | --- | --- |
| 8am-2pm | 2pm-8pm | 8pm-8am |
| £18.22 | £22.62 | £29.40 |
| Saturday early | Saturday late | Saturday night |
| --- | --- | --- |
| 8am-2pm | 2pm-8pm | 8pm - midnight |
| £23.69 | £29.40 | £29.40 |
| Sunday/ Bank holiday early | Sunday/ Bank holiday late | Sunday/ bank holiday night |
| --- | --- | --- |
| 8am-2pm | 2pm-8pm | midnight- 8am and 8pm- midnight |
| £29.16 | £36.20 | £36.20 |

We are proud to offer some of the most competitive rates of pay in the South West to our Bank workers. Please see below rates for our Band 5 Registered Nurses and Healthcare Assistants.
For further information on the rates of pay to other staff groups, please contact the Temporary Staffing Team: ghn-tr.glos.nursingbank@nhs.net
Winter Bank Rates for RN's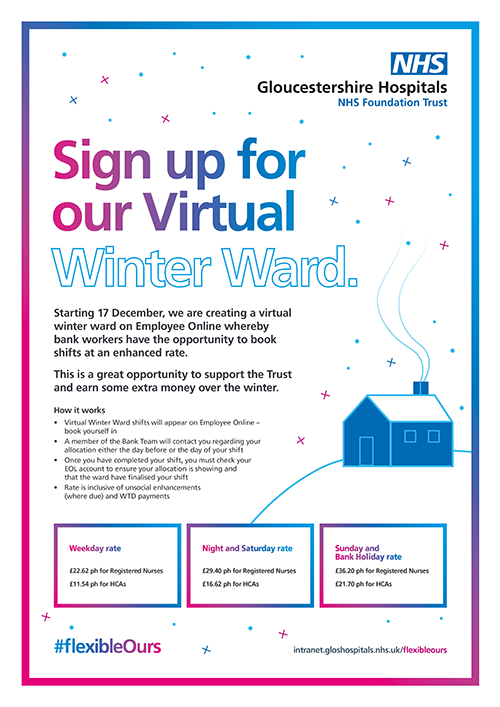 We are pleased to announce that between 2 December 2019 and 3 March 2020, Band 5 Registered Nurses will now receive the Enhanced rate of pay for all late and night bank shifts. Times detailed below;
7:00 – 14:00 = Early rate, £18.22
14:00 – 20:00 = Late rate, £22.62 – £36.20
20:00 – 08:00 = Night rate, £29.40 – £36.20
If you would like further information on the new winter bank rates, please contact 0300 422 6223.
The 12 Mugs of Christmas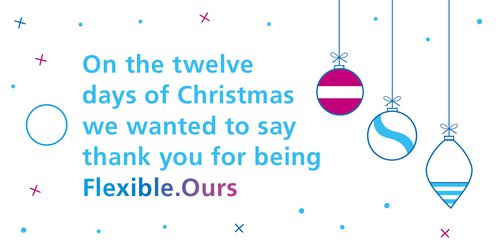 We are celebrating members of staff who are working on our temporary staff bank this winter. Between 2 and 17 December, we are surprising 3 Bank workers each working day with a mug filled with treats (including a shopping voucher!) to say thank you for working a bank shift. Then, on 20 December, 3 lucky people will be selected and presented with a 'tower of treats' as well as a £50 shopping voucher!