Dr Vellore Abitha Kujambal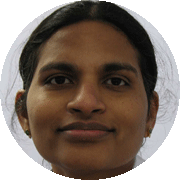 Date of registration
1 Jan 2002
Primary medical qualifications
MSc Paediatrics from University of Birmingham, FRCPCH in Paediatrics awarded by Royal College of Paediatrics and Child Health, MD Paediatrics
Areas of expertise

Dr Kujambal has extensive experience in general paediatrics. She completed her registrar training in the West Midlands. She also underwent training in paediatric diabetes and endocrinology and joined our Trust in December 2006.
She sees children with diabetes and also with problems related to growth and puberty. She also sees children with thyroid, adrenal and pituitary problems. Dr Kujambal sees children with familial hypercholesterolemia along with an adult consultant in the family lipid clinic.
She organises paediatric teaching for undergraduate students from the University of Bristol as academy lead.
Inpatient services
Children requiring an overnight stay in hospital will be admitted to Gloucestershire Royal Hospital.
Outpatient clinics
Endocrine clinics held in Cheltenham General Hospital, Battledown Outpatients Department on 2nd and 4th Wednesday mornings
Endocrine clinic in Gloucestershire Royal Hospital, in the Children's Centre on 4th Friday mornings
Diabetes clinics on 1st,2nd and 3rd Friday mornings in Battledown Outpatients Department, Cheltenham General Hospital.