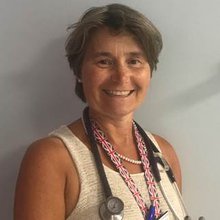 Contact
Date of registration
1 Aug 1992
Primary medical qualifications
BSc, MBBS, MRCP, MRCPCH, PgC
I joined the Trust in 2005 as a Consultant Paediatrician with a Special Interest in Neonatology.
I care for babies on the Neonatal Unit and post-natal ward and see them in out-patients for follow-up, as required.
I am also the departmental lead for Paediatric Cardiology. I run out-patient clinics, where I will undertake 'echos', if needed. I also see urgent referrals from the Children's Ward and Neonatal team. I work closely with the Cardiologists from Bristol Children's Hospital.
I also see some general paediatric patients in my clinics.
Area of expertise
Neonatology
Paediatric Cardiology