An upper limb cast is a hard covering that stabilises and immobilises either your wrist or elbow and sometimes both at the same time.
Below elbow cast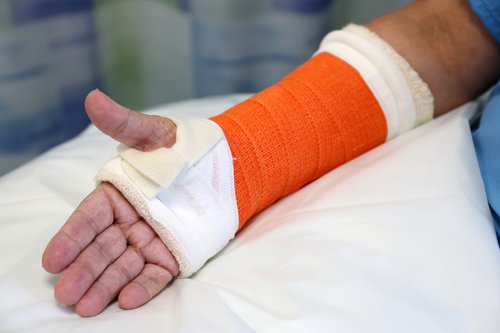 This type of cast, also known as a forearm cast, goes from below the elbow to the knuckle. It immobilises the wrist and forearm. It should allow full flexion of the elbow and of the fingers and thumb joints.
This cast is used for a variety of injuries and conditions, that involves the bones making up the wrist joints.
Please be aware that the cast will not relieve all of your pain. We recommend that you take regular pain relief for the first few weeks of your injury if needed.

Above elbow cast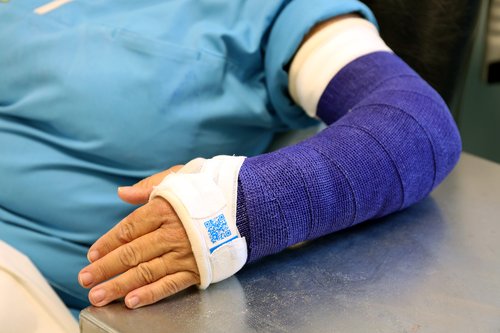 This type of cast goes from below the shoulder to the knuckles, immobilising your wrist and elbow. You may find, depending on your injuries that your wrist and hands are not included, this is called an above-the-elbow short arm cast.
If your fingers become cold and blue, even if you have kept your limb raised, please contact the Plaster Room immediately for advice.

Pressure Ulcer Prevention
Prolonged pressure on a certain area has the potential to cause skin damage or lead to pressure areas building.
Common areas this could occur are
Space between thumb and index finger
Around knuckles
Around elbow
Base of thumb
Around wrist
Around the top of the cast
Do
Keep your cast clean and dry

Keep your joints moving

Elevate your limbs
Don't
Don't get your cast near heat e.g. hair dryer, fire.

Do not get your cast wet or put plastic bags around the cast, these are not waterproof and can cause skin issues under the cast.

Never attempt to trim or remove your cast unless you are advised to do so, and always seek help if there's a problem.
Swelling
Keep your arm raised on a soft surface, such as a pillow, as often as possible while your limb is in plaster. This will help any swelling to go down and will reduce the feeling of pins and needles in your limb.
Swelling or the symptoms of swelling of the upper limbs is common post-injury/surgery. Symptoms can include:
throbbing, numbness, tingling sensation
change of skin colour to exposed areas of skin not in the cast
cast feeling tight
Information:
Further information regarding the care of your cast including on page 8 ways to keep elevation and exercises. You can find this here
Contact
For further information please contact the plaster room.
Cheltenham General Hospital
Tel: 0300 422 3148
Gloucestershire Royal Hospital
Tel: 0300 422 8411
Monday to Friday from 8:30am to 4:30pm