Emergency medicine professionals carry out the immediate assessment and treatment of patients with serious and life-threatening illnesses and injuries.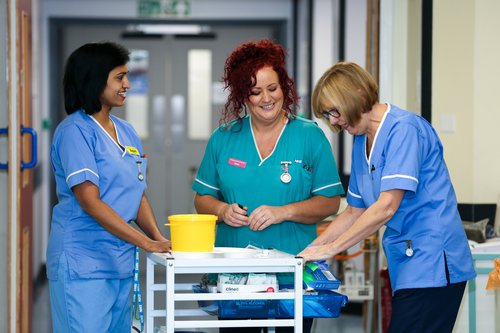 They treat conditions such as:
loss of consciousness, e.g. from an injury to the head, drug poisoning, an epileptic fit
severe bleeding
damage to the brain or other major organs, due to trauma
cardiac arrest (when the pumping action of the heart stops)
breathing difficulties
broken bones
mental health problems, e.g. self-harm patients
Our emergency departments
Our fast–paced Emergency Departments received over 50,600 patients and over 46,500 ambulances in 2018/19 across both Gloucestershire Royal Hospital and Cheltenham General Hospital.
This provides a unique opportunity to work with an enormous variety of people and patients and gain experience of all specialties including paediatrics, trauma, mental health, acute stroke and old age medicine.
Each day is different and you will enjoy close working relationships with the Emergency Department medical staff, operational services and our mental health liaison team.
Training and developing your career
We are committed to developing your skills and your career. There are lots of opportunities to progress into more senior and specialist roles within our friendly and supportive team.
You will be guided through your first three months with a Foundation educational programme aimed at familiarising you with the specialist equipment and skills needed to be part of an Emergency Department team.
Your ongoing education will then include the Acutely unwell or injured Adult and Child course, and after 18 months the Emergency Care Core Skills Programme will help consolidate and expand your knowledge and skills.
Find out more
Join our hardworking, supportive team at the front line of Emergency Care. Apply for jobs via www.jobs.nhs.uk
Find out more about emergency medicine careers on the NHS careers website.