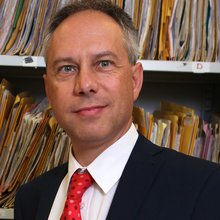 Contact
Date of registration
5 Feb 1996
Primary medical qualifications
MD, BSc (hons), FRCP (Lon)
Area of expertise
Cardiac Resynchronization Therapy (Biventricular Pacing) for Heart Failure
Pacemaker implantation (single and dual chamber
Implantation of internal cardioverter defibrillators (ICD)
Arrhythmia management
Risk stratification for arrhythmia and sudden death
Dr Nuta's Postgraduate training was all completed in the UK, mostly in the South West.
Further Specialist Registrar training in Cardiology in Exeter and Plymouth (Derriford Cardiothoracic Centre) with 2 years sub-specialty training in cardiac devices for heart failure and arrhythmia management.
Dr Nuta was appointed in Gloucestershire in May 2008 to develop the specialist cardiac devices service in the county. Cardiac devices (bi-ventricular pacemakers for cardiac resynchronization of the failing heart and implantable cardioverter defibrillators for treatment of dangerous heart rhythm disturbances) are now implanted in Cheltenham without the neeed for patients to travel to Bristol or Oxford for the procedure or follow-ups.
Dr Nuta has a specialist interest related to pacing in heart failure (Biventricular pacing), implantation and programming of internal cardiac defibrillators (ICD) to treat dangerous ventricular arrhythmia, as well as the assessment of palpitations, arrhythmia and risk of sudden cardiac death and family screening for arrhythmia.