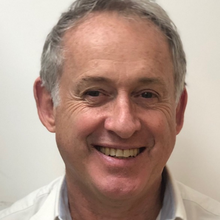 Date of registration
1 Aug 1983
Primary medical qualifications
MA, MD, FRCP
Areas of expertise
General cardiology
Adult congenital heart disease
Heart failure
Prevention of coronary heart disease
Bradycardia pacing
Inpatient services
Regular sessions covering the wards as 'Cardiologist of the Week'
Weekly sessions in the 'Cath Lab' performing cardiac catheterisation/coronary angiography and bradycardia pacing.
Outpatient Clinics
General cardiology clinics each week at GRH (Gloucester Royal Hospital)
Peripheral clinics in Stroud and Tetbury.
Bi-monthly whole day 'Joint ACHD (Adult Congenital Heart Disease) clinic alongside an ACHD consultant from Bristol Heart Institute.