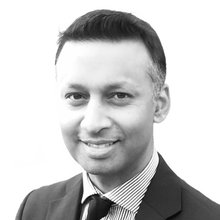 Contact
Date of registration
1 Jan 1997
Area of expertise
Dr Saha is a consultant interventional cardiologist (Heart Specialist), who was appointed in 2010. He was clinical lead for cardiology at Gloucestershire Hospitals between 2014 and 2016.

His busy NHS practice encompasses clinical activity (emergency work to treat heart attack patients, as well as clinics and ward rounds) at both Cheltenham General Hospital and Gloucestershire Royal Hospitals.
He was educated at Trinity College, Cambridge University, St Bartholomew's and the Royal London Medical School. He also has a PhD from the University of London. He has a number of book publications (Oxford Handbook of Cardiology, Oxford Textbook of Interventional Cardiology), as well as several peer-review publications. He initiated regular ECG teaching sessions for junior doctors in the Trust, and also provides teaching sessions on cardiology-related topics to GP's in the region.
His PhD, encompassing 5 years' work, was funded through a fellowship awarded from the British Heart Foundation. The subject matter investigated the relationship between cardiac stem cells and remote protection of the heart, through a process known as ischaemic preconditioning.
His cardiology training included several years' specialist training in the treatment of heart disease at St Thomas's Hospital, the London Chest Hospital, Barts Hospital, and the Royal Sussex Cardiac Centre.

Dr Saha is happy to receive referrals for the investigation of:
chest pain
heart valve disorders
palpitations/ heart rhythm disorders
shortness of breath from a cardiac perspective
blackouts/faints

Typical initial investigations include an ECG (electrocardiogram), echocardiogram (heart ultrasound) and heart rhythm recording, depending on symptoms.
Dr Saha also specialises in coronary angiography, complex coronary angioplasty and stent insertion to treat angina and heart attacks. This means a stent can be implanted at the time of the first angiogram, if necessary, without the need to return for a second procedure.

In addition, Dr Saha frequently uses a device known as a pressure wire (in 20-25% of his interventional procedures). The pressure wire is placed through the cardiac catheter at the time of the angiogram, and the information derived can help guide the decision as to whether a stent is implanted, so that stents are used only if needed.
Furthermore, he can perform coronary angiograms or angioplasty from either the wrist or the groin. Dr Saha performs approximately 90% of all his angioplasty procedures from the wrist (radial artery).
He maintains close links with heart specialists in both Bristol and Oxford, so that patients receive the treatment they need from those centres, if the need arises.
Procedures performed:
coronary angiogram
coronary angioplasty (Stent Insertion)
intravascular ultrasound (IVUS)
pressure wire
Rotational atherectomy (Rotablation)
Pericardial drain insertion
Insertion of temporary pacing wire
Insertion of intra-aortic balloon pump

Dr Saha is a Fellow of the Royal College of Physicians, and has medical indemnity through the Medical Protection Society. He is also a member of the following organisations:
British Cardiac Society
British Cardiovascular Interventional Society
British Medical Association
Other useful contact numbers
Gloucestershire Royal Hospital
Reception 0300 422 8467 / 8174
Secretary 0300 422 8286
Outpatient booking office 0300 422 5985
The Best Care For Everyone