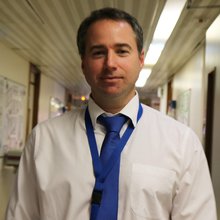 Contact
Date of registration
1 Sep 2012
Primary medical qualifications
MB BCh (Cardiff), Post-grad Dip in Sports Medicine, Advanced Trauma Life Support (ATLS) instructor, FRCS
Consultant in Trauma & Orthopaedics
Area of expertise
Having qualified as an orthopaedic surgeon, Mr Kempshall completed two years of advanced training fellowships in knee surgery based in Coventry and Bristol. He currently sits on the steering committee of the UK National Ligament Registry and has a diploma in sports medicine.
Mr Kempshall's specialist interest is surgery of the knee both elective and trauma surgery. He is a specialist in the treatment of early osteoarthritis of the knee and disease modifying surgery in the young adult. He follows a biological reconstruction philiosophy, addressing leg alignment (osteotomy), knee stability (ligament reconstruction), shock absorbance (meniscal repair and replacement) and surface regeneration of chondral damage (microfracture and chondral repair).
He offers treatment for knee cap instability (recurrent patella dislocation). He is also able to provide joint replacement procedures from the half knee replacement (unicompartmental) to total knee replacement and revision total knee replacement. Mr Kempshall also has an interest in the treatment of patients with knee replacement joint infection. He regularly teaches on the Bristol revision knee course, and the York advanced ACL reconstruction course for international consultant surgeons.
Mr Kempshall is also able to offer a specialist service for the treatment of knee and lower limb trauma. He has an interest in knee dislocation with multiple ligament reconstruction, tibial plateau fracture fixation and fracture involving a knee replacement (peri-prosthetic fracture). He is alson interested in fracture neck of femur (hip fracture) in the elderly.
Procedures performed:
Alignment Correction: High Tibial Osteotomy, Tibial Tubercle Osteotomy, Distal Femoral Osteotomy
Soft Tissue Reconstruction: Anterior Cruciate Ligament (ACL), Anterolateral Ligament (ALL), Posterior Cruciate Ligament (PCL), Medial collateral ligament (MCL), Lateral collateral ligament (LCL), Posterior Lateral Corner (PLC), Medial Patello-Femoral Ligament (MPFL)
Meniscus: Medial Meniscal Repair, Meniscectomy, Meniscal Replacement (Allograft Transplant/ Synthetic)
Joint Replacement: Unicompartmental replacement – Medial, Lateral, Patellofemoral - Total Knee replacement, Revision Total Knee replacement, Total Hip replacement, Distal femoral replacement
Articular Cartilage: Chondroplasty, Microfracture, Articular cartilage implantation, Focal cartilage defect resurfacing
Other useful contacts
Gloucestershire Royal Hospital
0300 422 6731
Cheltenham General Hospital
0300 422 3174