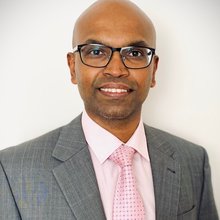 Date of registration
13 Dec 2018
Primary medical qualifications
MBBS, M.S Orthopaedics, FRCS Ed (Tr & Orth)
Consultant Trauma & Orthopaedics and Spine Surgeon
Mr Riaz Mohammed joined the Trust in March 2022 as a Substantive Consultant Trauma & Orthopaedic Surgeon with a specialist interest in Spine Surgery. He underwent his preliminary medical training in India where he also obtained a 3-year post-graduate qualification in Trauma and Orthopaedics (MS Ortho) from Osmania Medical College, Hyderabad. Subsequently, he completed his higher Orthopaedic surgical training in various hospitals across the UK including bespoke Orthopaedic centres like the Royal Orthopaedic Hospital, Birmingham, and the Wrightington Hospital, Lancashire. Mr Mohammed worked at well recognised and reputed Tertiary Spine surgery units in Salford and Cardiff obtaining specialist Spine Fellowship training for 3 years in all aspects of spinal surgery including degenerative, deformity, tumour, trauma and infection conditions. Mr Mohammed also specialises in general orthopaedic trauma and emergency care and is part of the Orthopaedic Trauma on-call team.
His Specialist clinical expertise includes:
Degenerative lumbar, cervical and thoracic spinal pathologies
Management of degenerative disc disease, spondylosis, spinal stenosis, and spondylolisthesis
Pain relief procedures including nerve root injections, epidural injections, and nerve ablation.
Spinal fractures, including insufficiency osteoporotic fractures
Reconstructive surgery (primary and salvage) of all areas of the spine
Radiculopathy & Myelopathy conditions
Management of spinal infections including discitis, spondylodiscitis, epidural abscesses and sequelae of infection
Vertebral cement augmentation: Vertebroplasty & Kyphoplasty
Alongside his clinical work, Mr Mohammed is actively involved in clinical governance, teaching, training and clinical research activities. He has more than 30 peer-reviewed publications in renowned medical journals and is recognized for his over 50 scientific presentations at national and international scientific conferences (Link to publications and scientific projects: https://www.researchgate.net/profile/Riaz-Mohammed-4). He is a Fellow of the Royal College of Surgeons of Edinburgh, and an active member of the British Association of Spine Surgeons, British Indian Orthopaedic Society and AO Spine.
Mr Mohammed's credo is to provide the optimal non-invasive, holistic and surgical care possible to each of his patients while being empathetic, understanding and compassionate. Helping patients achieve their full potential, his practice is supported by evidence-based and experience-based decision-making, grounded in patient- and family-centred care. He applies these principles and explores less invasive methods of treatment while leveraging the latest evidence-based technology to achieve the best outcomes for those in disabilities and pain.