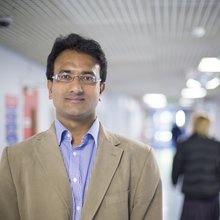 Contact
Date of registration
1 Jan 1998
Primary medical qualifications
MBChB, BSc (Hons), MRCSEd, FRCSEd (Tr&Orth)
Consultant Trauma & Orthopaedic and Spine Surgeon
Mr Rathnam Sundaram graduated from University of Leeds Medical School in 1998 also gaining a BSc (Hons) in Biochemistry in 1995. After completing his house jobs in Leeds he moved to the Mersey Region where he undertook his Basic Surgical Training; knee research fellowship and High Surgical Training in Trauma and Orthopaedic Surgery from 1999-2009.
Having gained a wide experience in trauma and orthopaedic surgery Mr Sundaram found spinal surgery the most fascinating. He undertook two spinal fellowships at the world famous spinal unit at Queen's Medical Centre, Nottingham and at the Royal Devon and Exeter hospital in 2009 and 2010. Mr Sundaram has been appointed to Gloucester NHS Foundation Trust in September 2010 working at both Cheltenham General and Gloucestershire Royal Hospitals as well as in Cirencester and Tetbury.
Mr Sundaram works very closely with his other 25 Consultant Orthopaedic colleagues as well the neurology and oncology specialists. He also maintains a close relationship with the General Practitioners throughout Gloucestershire and the neighbouring counties as well as other health care professionals such as physiotherapists, chiropractors and osteopaths, and knows how working with a team best helps patients' recovery.
His specialist interests are in all aspects of spinal surgery including cervical radiculopathy and myelopathy, scoliosis, degenerative lumbar spine disorders, back pain, sciatica, spinal stenosis, spondylolisthesis, metastatic spinal tumours, spinal infections, osteoporotic vertebral fractures, kyphoplasty and spinal trauma. He also performs microdiscectomy and microdecompression procedures including minimally invasive surgery.
Mr Sundaram undertakes more than 3000 patient consultations per year, making him a very experienced spine surgeon in Gloucestershire as his practice exposes him to the vast array of both elective and emergency spine pathology.
In 2015, Mr Sundaram was appointed as the Spine Lead for Gloucestershire NHS Foundation Trust. Since then, following the new guidelines there have been many positive steps forwards within the service development, such as
- A reduction in the variation in spinal surgery
- Lowered length of stay postoperatively
- Reduced spinal implant costs
- A reduction in re-operation rates
- A reduction in unnecessary spinal injections
These achievements have led him to receive three Clinical Excellence Awards, as well as being shortlisted for the People's Choice Award and Team of the Year Award which he was delighted to be involved in.
From November 2016, there has been a significant national change in the management of spinal disorders led by the Getting it Right First Time (GIRFT) project, NICE and the British Association of Spine Surgeon (BASS). This has led to better management of patients and the reduction of spinal procedures which have limited clinical benefits. This is not rationing by the NHS, but has been implemented to reduce ineffective procedures and improve the quality of the interventions we are delivering to further improve patient care.
Mr Sundaram also specializes in general orthopaedic trauma and is part of the on call team.
He is a member of the British Medical Association, British Orthopaedic Association, AO Spine, British Association of Spinal Surgeons, American Academy of Orthopaedic Surgeons,.
Mr Sundaram has done a considerable amount of research over the years and has over 50 papers, abstracts and national and international presentations in various orthopaedic specialties. He has written a book chapter in the ABC of Spinal Disorders. Mr Sundaram is an invited reviewer for the journal Acta Orthopaedica. He regularly teaches junior doctors and is a qualified ATLS instructor.
Mr Sundaram's philosophy is to base his management around the unique individual needs of the patient.
Other useful contact numbers
Gloucestershire Royal Hospital
Reception 0300 422 8408 / 8409
Secretary: 0300 422 6770
Inpatient admissions clerk 0300 422 8140
Day case admissions clerk 0300 422 8140
Cheltenham General Hospital
Reception 0300 4722 3147
Tewkesbury Hospital
Reception 0300 4722 3943